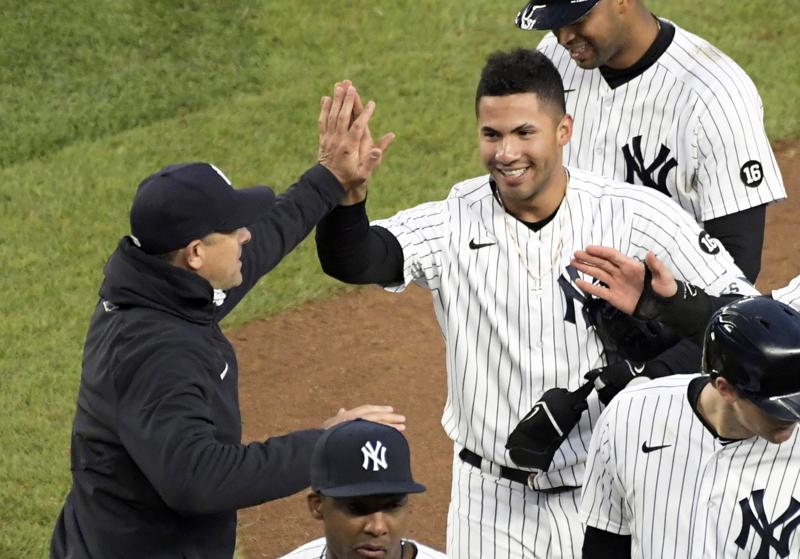 Eight members of the New York Yankees — seven coaches and support staffers, plus shortstop Gleyber Torres — have tested positive for the coronavirus over the past three days, even though all of them were fully vaccinated. The news came as the Centers for Disease Control said Thursday that fully vaccinated Americans no longer have to wear masks indoors or outdoors in most cases.
"With regard to the Yankees, we obviously need to learn more about that situation. My understanding is that six of the seven infections were indeed asymptomatic infections, and we will look to more data from that report to understand what happened there," CDC Director Rochelle P. Walensky said at a news conference. "All of the real-world data we've seen that's been in the published literature, large studies, in many different settings, have demonstrated that those vaccines have a high effectiveness against disease."
The CDC had previously warned that no vaccine is 100 percent foolproof and that "a small percentage of people who are fully vaccinated will still get covid-19 if they are exposed to the virus that causes it." Such people are deemed "breakthrough" cases, and the Yankees are now the first professional sports team to have an outbreak of them.
According to the Yankees, all of the infected team members had been inoculated with the single-dose Johnson & Johnson vaccine, which was found to be 72 percent effective at preventing moderate to severe covid-19 and 74 percent effective at preventing asymptomatic infection. Other vaccines by Pfizer and Moderna, which require two doses, have been found to be more effective by the CDC at halting the disease.
"The Johnson & Johnson vaccine is very good at preventing what we're most concerned about, which is hospitalizations and death due to covid; [it's] as effective as mRNA vaccines from Pfizer and Moderna. But it is less effective at preventing mild disease, in this case preventing asymptomatic infection," Costi Sifri, director of hospital epidemiology at UVA Health, said in a telephone interview Thursday. "Is [the Yankees' outbreak] predictable? I think it is predictable if you have a vaccine that doesn't prevent that particular outcome of covid and if you're relaxing some of the infection-prevention practices that we've been practicing for a while now during the pandemic. So if you're gathering indoors and taking off masks and being closer to one another and you have a vaccine that doesn't prevent asymptomatic infection [as well as the others], then you'll see these events if you're testing for it."
Click here to read more.
Source: Washington Post