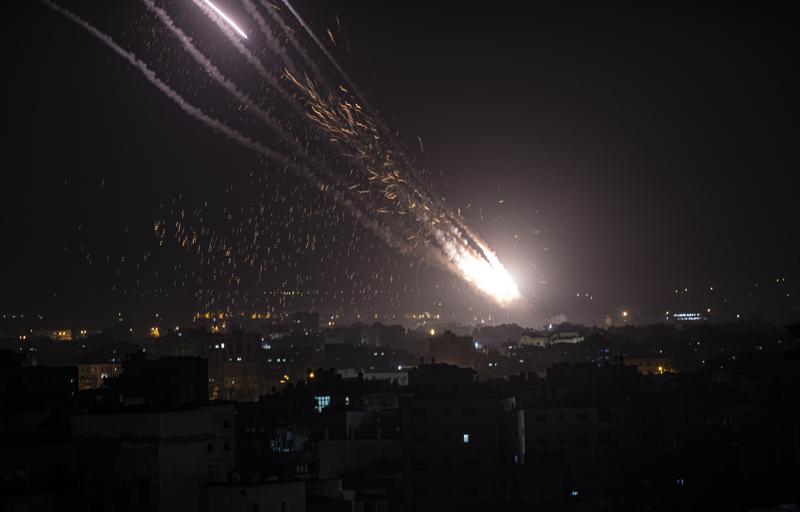 Escalated tensions in Jerusalem and days of clashes at an iconic mosque in the holy city has led to new rocket fire and airstrikes between Israel and Gaza militants. The new airstrikes has left 24 people including nine children dead, more than 700 Palestinians hurt, and 500 reported needing treatment at the hospital. Six Israeli civilians were hurt by rocket fire Tuesday morning.
This new round of violence was spurred on by conflicting claims over Jerusalem. Two major reasons for this tension are cited: (1) the Al-Aqsa Mosque compound, the third holiest site of Islam and the holiest site of Judaism; this site has been an emotional center of the long conflict between Israel and Palestine. (2) the threatened eviction of Palestinian families from homes in an east Jerusalem neighborhood by Israeli settlers.
Hamas, the militant group ruling the Gaza Strip, gave Israel a deadline to withdraw forces from the Al-Aqsa compound. To show they meant what they said, Hamas fired dozens of rockets Monday evening some aimed directly at Jerusalem. This set off a series of air raid sirens throughout Jerusalem.
Palestinian worshippers performed the dawn prayer at the mosque without confrontations on Tuesday. Dozens were video taped shown marching to the mosque chanting "we sacrifice our blood, soul for Al-Aqsa."
Innocent civilians were caught in the exchange: an Israeli drone strike killed a man in southern Gaza; a missile struck the upper floors of an apartment building in the Shati refugee camp on the edge of Gaza City leaving a woman and two men dead. An Israeli man was lightly wounded after a missile struck a vehicle; one rocket landed near a home on the outskirts of Jerusalem, causing light damage to the structure and sparking a brush fire nearby. More than 100 Gazans were wounded in the airstrikes.
Prime Minister Benjamin Netanyahu warned that the fighting could drag on, despite calls for calm from the U.S. and Europe. The United Nations, Egypt, and Qatar, which frequently mediate between Israel and Hamas, were all doing their best to halt the fighting.
Netanyahu went on to say "terrorist organizations in Gaza have crossed a red line . . . whoever attacks us will pay a heavy price."
There are no signs of a let-up as is evidenced in the words of Hamas leader Ismail Haniyeh who said the rocket attacks would continue until Israel stops "all scenes of terrorism and aggression in Jerusalem and Al-Aqsa mosque."
— BCNN1