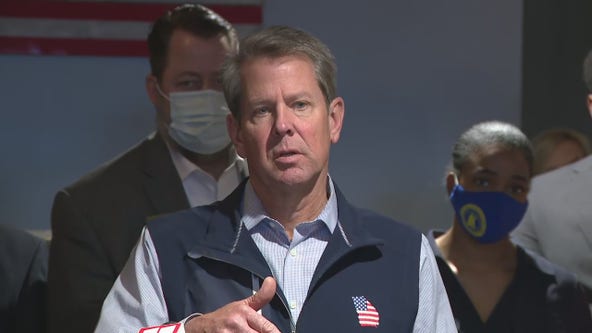 At a Cobb County seafood restaurant near Truist Park on Saturday morning, Gov. Brian Kemp, Republican officials and a group of supporters lamented to potential boon the 2021 MLB All-Star Game could have been for business in the area in July.
Major League Baseball publicly pulled the game from Atlanta and relocated it to Denver, Colorado, in the weeks after Kemp signed a bill to reform elections into law. Kemp has been vocal that the "Election Integrity Act of 2021" is not suppressing votes. Kemp emphasized again on Saturday, as he has since SB 202 became law, that the bill expands the number of days offered for early in-person voting.
His common refrain is the law "makes it easy to vote and hard to cheat," a direct quote from the text of the bill. There are now 17 mandatory in-person early voting days, which Kemp said expands early voting in 134 of 159 counties.
MLB All-Star Game move hurts small business, Kemp says
Kemp's focus on Saturday was less about defending the law's contents, but on unjust circumstances he said Georgia business owners are facing since the All-Star Game moved venues.
"It's been minority-owned businesses that were impacted most (during the pandemic) by no fault of their own," Kemp said at a podium in a Cobb restaurant on Saturday. "Now, they are affected by this decision … at no fault of their own."
The trickle-down effect is apparent, he said, when local restaurants cut down orders on supplies they needed to prepare for the influx prior to the game.
"I believe we're on the right side of fighting for the little guy," he said.
Click here to read more.
SOURCE: FOX 5 Atlanta