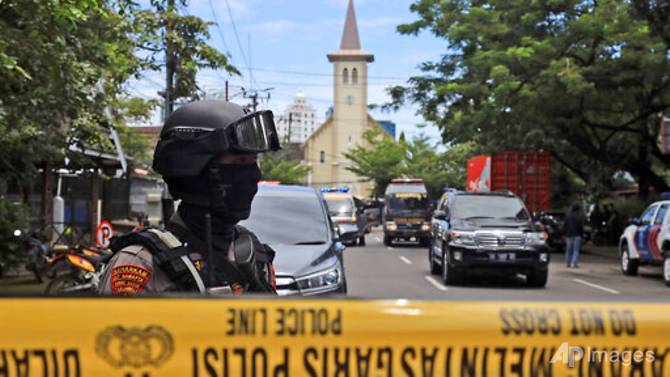 Indonesian police said on Thursday (Apr 1) that they will be stepping up security at churches across the country ahead of the Easter weekend, after two recent terror attacks. 
National Police spokesman Rusdi Hartono told reporters: "In light of recent security conditions, (particularly) the incident in Makassar, the National Police has instructed police in all regions to step up their vigilance towards acts of terrorism, particularly in their operations to secure Easter celebrations."
A Catholic church in the city of Makassar, South Sulawesi province was the scene of a suicide bombing attack last Sunday, when a married couple riding on a motorcycle blew themselves up. Twenty people were injured in the blast, four of whom are still hospitalised.
On Wednesday, a 25-year-old woman engaged in a shootout with the police inside the National Police headquarters in Jakarta. She fired six shots at police officers before being fatally gunned down. No police officers were injured in the incident.
Mr Hartono said police will comb churches to look for bombs and other suspicious items before masses. "Police will also be deployed to guard church entrances and doors and check people's belongings," he said.
The police announcement came hours after President Joko Widodo condemned the two acts of terrorism.
"I have instructed national police chief, military chief and state intelligence agency chief to increase vigilance," he said on Thursday. "There is no place for terrorism in our motherland."
Click here to read more.
SOURCE: CNA, Nivell Rayda