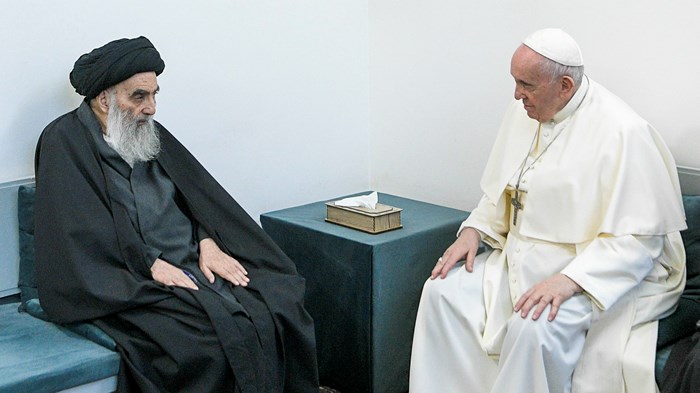 Pope Francis, a "pilgrim of peace" to Iraq, has made history by becoming the first pontiff to meet a grand ayatollah: Ali al-Sistani, whose hawza (seminary) in Najaf, 100 miles south of Baghdad, is considered the foremost center of learning in Shiite Islam.
Two years ago, the pope met the grand imam of Egypt's al-Azhar, considered the foremost center of learning in Sunni Islam. With Ahmed al-Tayyeb, Francis signed the "Declaration of Human Fraternity," calling on both Christians and Muslims to embrace religious diversity with freedom and respect.
This weekend, Francis came to Iraq to support and encourage the nation's beleaguered Christians, whose numbers have decreased from 1.4 million in 2003 to about 250,000 today.
But he also wished to sign a similar document with the reclusive leading figure in Shiite Islam, which represents 1 in 10 of the world's Muslims—yet 6 in 10 Iraqis.
The result with Sistani was more modest than with Tayyeb, but Francis did secure a very important fatwa (religious ruling).
"[Christians should] live like all Iraqis, in security and peace and with full constitutional rights," said Sistani in an official statement. "The religious authority plays [a role] in protecting them, and others who have also suffered injustice and harm in the events of past years."
Francis removed his shoes upon entering Sistani's modest home. And while the ayatollah usually sits to receive visitors, he stood to welcome the pope.
Will the ruling make a difference? Will it have any impact in Iran, the neighboring theocratic Shiite state? And what really drives the regional conflict: religion or politics?
In Muslim history, the answer is both.
While differences exist in rituals and theology, Shiism emerged in a dispute over succession to Muhammad, in both his religious and political roles.
Sunnis believe that Muslims chose Abu Bakr to serve as the first caliph—which means successor in Arabic—after Muhammad's death. This process continued for the three leaders that followed his rule, who were selected from among the pious in the community.
But Shiites believe that the fourth caliph, Ali, Muhammad's cousin and son-in-law, was the prophet's original choice, passed over by conspiring Muslims.
When Ali was assassinated in 661 AD, a usurper took his role and established the family-based Umayyad dynasty. Ali's two sons chose different paths of resistance, trying to reclaim their rightful place of leadership. Hassan, the older, was eventually poisoned. Hussein was killed in battle and heralded as a martyr. His shrine is located in Najaf, the site of Sistani's hawza.
Sunnis hold that the caliphs were simple political leaders. But Shiites hold that Ali was an imam, possessing spiritual authority which passed on to those who succeeded him. Shiites divided into many sects disputing this line of succession. But the majority hold that the 12th imam disappeared mysteriously in 874 AD and one day will reappear from occultation as a messiah figure alongside Jesus to establish the true Islamic state.
Yet ever since the death of Hussein, Shiites—which means "party of Ali" in Arabic—were on the losing side of Islam's political struggles. And when the 12th imam vanished, they had no formal leader.
About 170 years later, clerics coalesced in Najaf to chart the course for the Shiite sect. Though not a formal institution like the Vatican, the office of the Grand Ayatollah emerges from the consensual esteem of Shiite colleagues acclaiming their top religious scholar.
Every scholar is known as a mujtahid (legist, or legal expert), who can risk declaring himself a marja' (reference, or source to follow) in hope of attracting followers. Among their authority is collecting the khoms (fifth), and distributing this 20 percent tithe on profits for the good of the community.
But their main duty is to issue fatwas advising on right conduct in real-life circumstances, which Shiite Muslims who claim a given scholar as a reference are duty-bound to follow.
Click here to read more.
Source: Christianity Today