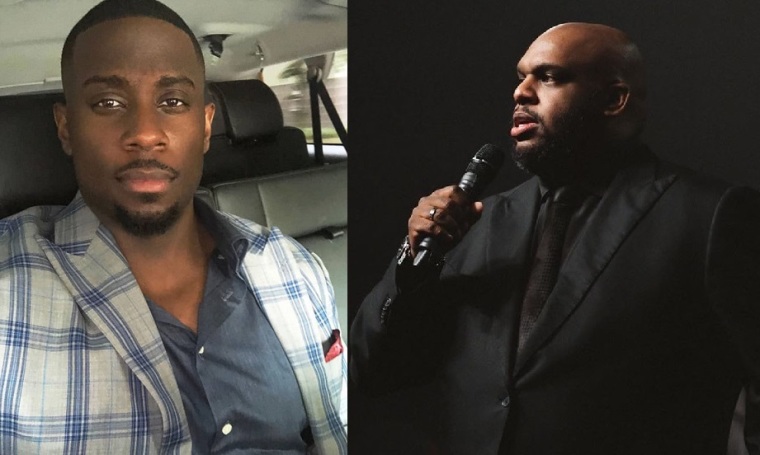 Megachurch Pastor John Gray has offered prayers to embattled Christian relationship guru Derrick Jaxn who's facing backlash after he confessed to being unfaithful to his wife multiple times during his marriage.
Gray's prayer for Jaxn, which was highlighted by The Shade Room on Instagram, comes despite previous criticism from Jaxn, when he faced public criticism over allegations of infidelity in his own marriage in recent years.
"Hey Derrick. You remember when I responded to your words about me? Remember when I posted videos about you? Neither do I. To be clear, I've slept with one woman in my life. My wife. But that DOES NOT ABSOLVE ME OF THE WRONG I DID. Any interaction or communication with anyone was wrong. My failures are mine and I have gone through – and continue to – go through counseling to address the vast empty places that led me to behavior that is antithetical to how I was raised and what I believe. I've learned in life that everyone gets a turn. When it was mine, I didn't obfuscate my wrong by addressing what I knew about others. I kept others names out of my mouth. Maybe it would be wise to do the same," Gray wrote. "One more thing, I sincerely pray for you and your family to heal. I know how people throw you away. I will never do to another man what was done to me. May you receive the grace I didn't receive from others. May you rise to be a better man. One moment will not define your life."
In early 2020, Gray, who leads Relentless Church in Greenville, South Carolina, publicly revealed he had wanted to end his life and received prayer from Bishop T.D. Jakes as allegations of infidelity clouded his marriage. Prior to that, he told his congregation that his wife, Aventer, discovered that he had started "listening to the wrong voices and let some people get too close … she set it off just like a good wife should."
Click here to read more.
SOURCE: Christian Post, Leonardo Blair