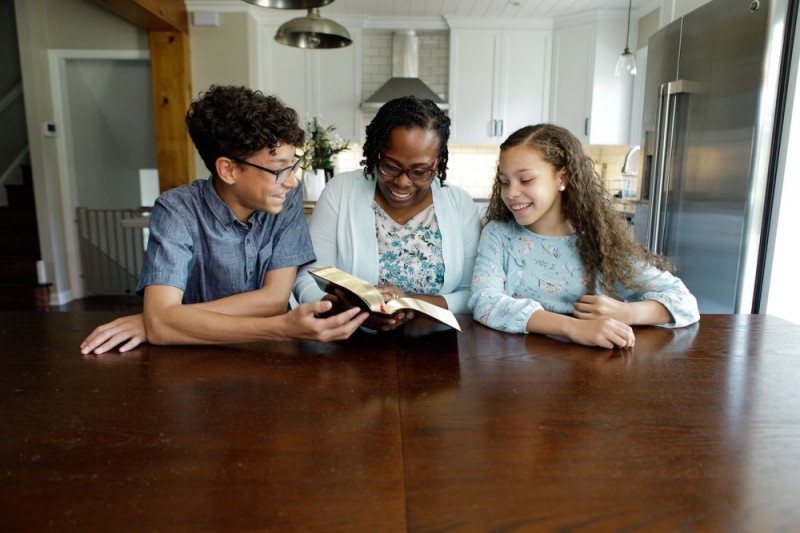 As a working mom of one with another baby on the way, Women's History Month has resonated differently for me this year. This annual celebration comprises the beauty and the weight of womanhood, the sacrifices of women who paved the way before us and the responsibility we carry today for future generations. It includes my grandmother who left university to rivet planes during WWII and my mother who left her career as an RN to raise me. It includes the women at my church growing up who, experiencing unimaginable difficulty after difficulty, raised their hands in honest praise. And it includes all of us in 2021—still holding the gift of extra family time in balance against distance, job loss, and grief. As headlines point to women being in crisis, I think we're all asking: where's our relief?
Turns out, part of the answer may be sitting on our shelves. Research suggests the Bible, on the whole, makes people "better." People who are Scripture engaged* report better mental and physical and financial health, more close social relationships, greater happiness, and a fuller sense of meaning and hope. On a literary level, it's also true that the Bible features the entire range of human emotion, including joy and happiness but also grief and sorrow. As much as it may give us reason to celebrate, it also gives us permission to lament and to acknowledge how awful many of are feeling right now, which is in itself a piece of relief.
Of course, in order to benefit from the Bible, one has to read it, and data released during the pandemic showed indications to the contrary. The 2020 edition of American Bible Society's (ABS) State of the Bible: U.S. report, which polls a representative sample of Americans to study the nation's views on the Bible, showed that Scripture engagement* was down. This was true across the board, but it was particularly true among women who — for the past decade — had ranked higher than men when it came to their views on and use of the Bible. Scripture engagement was down 3.3% for women with no children at home, and a dramatic 7.6% for women with children at home. (For context, it decreased 0.6% for men with children at home.) In a time when women were separated from their church, their community, and their support structures, they were also distant from the comfort they might have found in Scripture.
Click here to read more.
SOURCE: Christian Post, Laura Chan