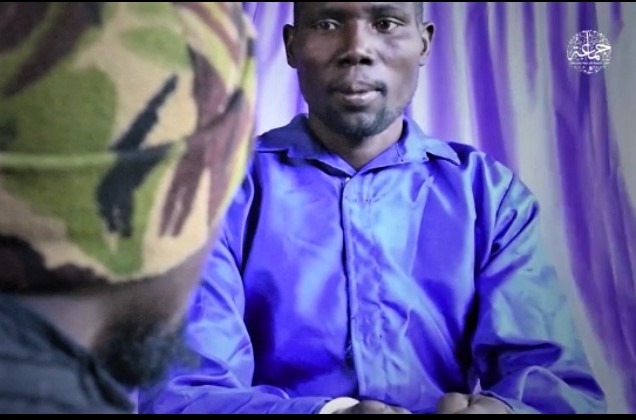 A pastor abducted from northeastern Nigeria by Islamic extremist militants reportedly says in a video that they will kill him on Wednesday (March 3) if their ransom demands are not met.
In the video sent to Nigerian online news outlet Human Angle, pastor Bulus Yikura of the Church of the Brethren in Nigeria (EYN) pleads for government and Christian leaders to secure his release. Human Angle reported today that the video came from the Abubakar Shekau-led faction of Boko Haram, which in 2015 formally aligned with the Islamic State and changed its name to Islamic State West Africa Province (ISWAP).
"I'm calling on President Muhammadu Buhari and the governor of Borno to help me, because I have been given a one-week ultimatum today, Feb. 24," Pastor Yikura reportedly says in the video. "If you want me alive, I beg you in your capacity as president, the governor and our local government chairman to save me from this suffering."
Human Angle released a screenshot of the video showing his captor wielding a knife as he stands behind the kneeling Pastor Yikura and reported that the deadline to receive ransom money ends on Wednesday (March 3).
The news outlet reported the pastor's name as Yakuru, but in a prior video obtained in January by Morning Star News, the church leader pronounces his name as Yikura.
Area Christians said Pastor Yikura was captured on Dec. 24 in Pemi village, near Chibok in Borno state, by Islamic extremists they identified as members of Boko Haram. The Islamic State recognizes the ISWAP faction that broke away from Shekau in 2016 as its cell in the region, according to the U.S. Commission on International Religious Freedom (USCIRF), and many Nigerians still refer to the Shekau-led faction of ISWAP by its original name, Boko Haram.
In the new video, Pastor Yikura also calls on the Christian Association of Nigeria (CAN) and the EYN president to secure his release.
"Please pray for me," he reportedly says. "Today is the last day I will have the opportunity to call on you in your capacity as my parents and relatives in the country. Anyone who has the intention should help and save me. Please release me from this pain."
The Christmas Eve attacks on several villages near Chibok killed 11 people and destroyed homes.
The prior video obtained by Morning Star News on Jan. 31, which begins with the ISIS logo and identifies itself as from ISWAP, shows Pastor Yikura speaking in Hausa as he appeals to church and other Christian leaders, along with government officials, to secure his release from his captors, referring to the Shekau-led faction of ISWAP by its prior name of Boko Haram. He does not identify his church affiliation in the video, which is believed to have been forwarded to his family and then sent to Morning Star News by a concerned Christian in Borno state.
Click here to read more.
SOURCE: Morning Star News