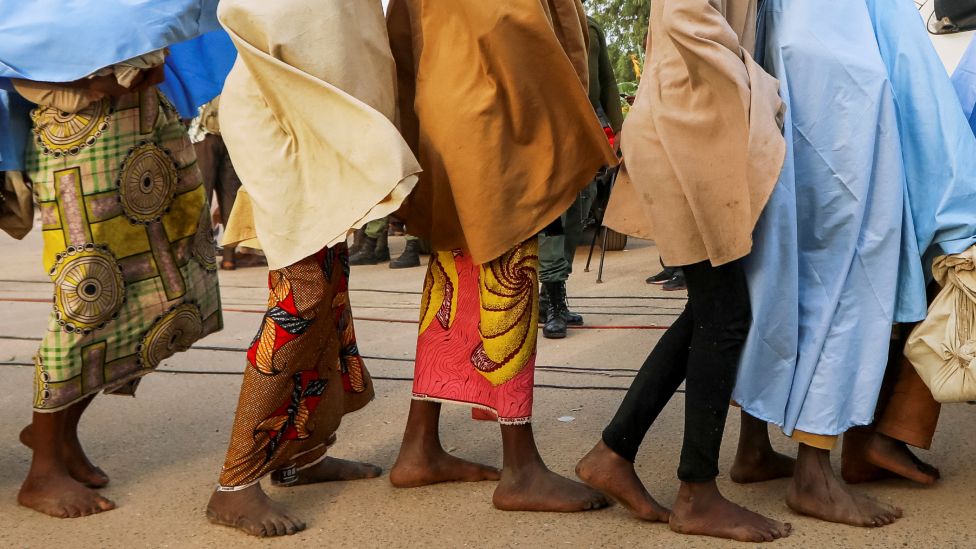 Girls among the nearly 300 who were kidnapped from a school in north-western Nigeria have been describing their ordeal following their release.
"Most of us got injured," one of the schoolgirls told the BBC, adding that gunmen threatened to shoot them.
The girls were abducted by unidentified assailants from their boarding school in Jangebe, Zamfara state, on Friday and taken to a forest, police said.
The state's governor said on Tuesday that the 279 girls had been freed.
Such kidnappings are carried out for ransom and are common in the north of the country.
On Tuesday, dozens of the girls were seen gathered at a government building in Zamfara after they were taken there in a fleet of mini-buses.
Speaking to the BBC, one of the schoolgirls said that some of those kidnapped had found it difficult to continue walking when instructed to do so by the gunmen because of their injuries.
"They said they [would] shoot anybody who did not continue to walk," she said. "We walked across a river and they hid us and let us sleep under shrubs in a forest."
Another of the girls, aged 15, said that some of her classmates found it difficult "walking in the stones and thorns" and had to be carried.
"They started hitting us with guns so that we [would] move," she told Reuters news agency, adding: "While they were beating them with guns, some of them were crying and moving at the same time."
Click here to read more.
SOURCE: BBC News