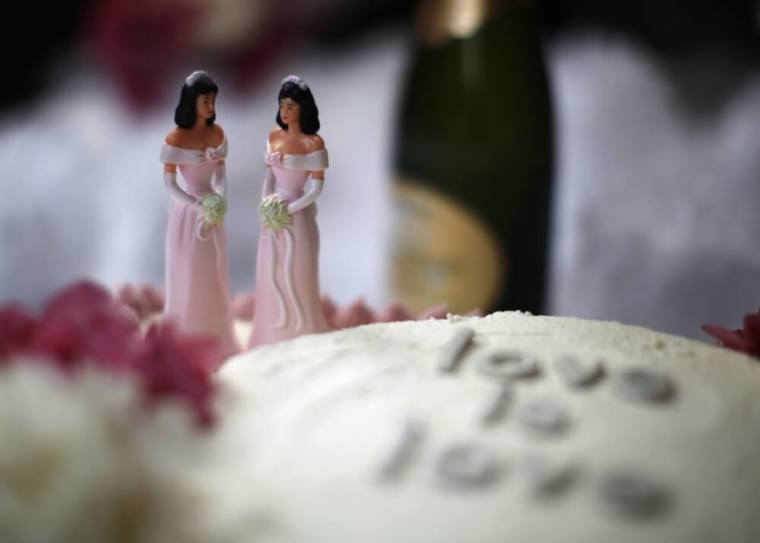 SUPPORT FOR anti-discrimination laws and marriage equality for lesbian, gay, bisexual and transgender people is at an all-time high, according to a report released early Tuesday by the Public Religion Research Institute. The survey of more than 10,000 Americans reveals unusual unity in a populace deeply divided along partisan lines and grappling with race and gender issues.
More than three-fourths of Americans overall, or 76%, and strong majorities of Americans in every subgroup – no matter what gender, religion, race, age or geographic location support anti-discrimination laws. Further, for the first time since PRRI began surveying the matter, a majority of Republicans endorse same-sex marriage, according to the group, which studies the intersection of culture, politics and religion.
"It really is impressive that we're seeing not just (overall) support but high support among groups where you wouldn't normally expect it," says Natalie Jackson, PRRI's director of research.
For example, 51% of Republicans now back same-sex marriage, up dramatically from 31% of GOPers who felt that way a decade ago in PRRI's surveys. Support for LGBT nondiscrimination laws are highest among liberals, Democrats and younger people, but the increase in support has come mainly from Americans of color and white mainline Protestants, the report found.
Three-fourths of white Catholics and 71% of Hispanic Catholics back same-sex marriage, the report found, although the church formally opposes such unions. White evangelical Protestants were the only religious group without majority support for same-sex marriage; 43% of that group back gay and lesbian marriage.
Support for nondiscrimination laws for LGBT people was highest in the mid-Atlantic and Pacific states, where 79% of people back such rules. But even in the area with the lowest support for such protection – the Southeast states of Kentucky, Tennessee, Alabama and Mississippi – 69% of those surveyed support such laws, PRRI found.
More than 6 out of 10 Americans, or 61%, oppose allowing small business to refuse products or services to gay or lesbian people if doing so violates the vendors' religious beliefs, while 33% believe businesses should be able to deny services on religious grounds.