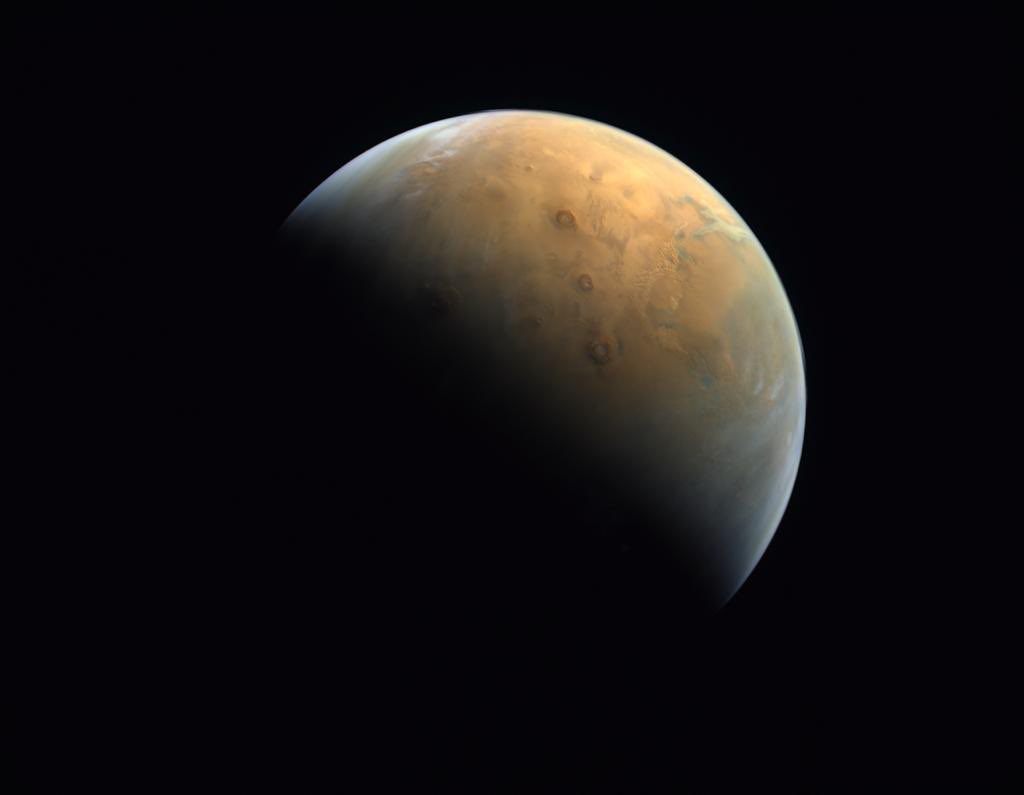 Mars is the place to be this month. Two spacecraft have already entered orbit around the red planet: China's Tianwen-1 got there on Feb. 10. And a day earlier, the United Arab Emirates made history by sliding the Al Amal (Hope) spacecraft into Martian orbit and becoming just the fifth country to reach Earth's dusty, barren neighbor.
The first-ever Arab interplanetary mission has snapped a couple of images of Mars during its journey so far, but nothing quite like what it delivered early Sunday. From a distance of about 15,500 miles (25,000 kilometers), the probe's camera — officially known as the Emirates eXploration Imager (EXI) — captured a picturesque view of Mars as a yellowed semicircle against the black curtain of space.
إرسال أول صورة للمريخ بعدسة "مسبار الأمل ".. بشرى خير، وفرحة جديدة.. ولحظة فارقة في تاريخنا، تدشن انضمام الإمارات إلى نخبة دول العالم المتقدمة في استكشاف الفضاء.. إن شاء الله تسهم هذه المهمة في فتح آفاق جديدة في عملية اكتشاف الكوكب الأحمر تعود بالخير على البشرية والعلم والمستقبل. pic.twitter.com/Gr24bgel0q

— محمد بن زايد (@MohamedBinZayed) February 14, 2021
Some of Mars most famous features are visible in the image. Olympus Mons, the biggest volcano in the solar system peeks out at the terminator, where the sunlight wanes, while the three volcanoes of the Tharsis Montes dazzle under a mostly dust-free sky.
The picture was shared in a tweet by Sheikh Mohamed bin Zayed Al Nahyan, de facto ruler of the UAE.
Click here to read more.
SOURCE: Cnet, Jackson Ryan