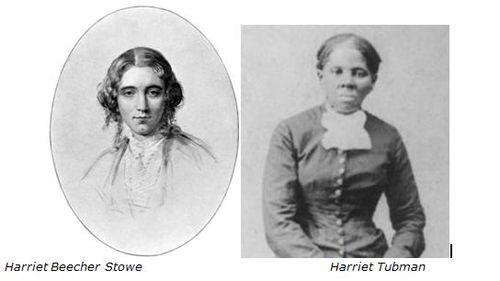 This is the tale of two Harriets: Harriet Tubman and Harriet Beecher Stowe. I've long known their names, but only recently have I become more aware of their stories. This week, as we begin both Valentines and Black History Month, these women are my new heroes. I am convinced that the intersection of their stories can provide inspiration and examples for our own, especially now.
The two Harriets' earthly days converged from about 1820 to 1896. One was black, the other white; one a slave, the other free. While both were from large families, one's siblings were sold away while the other got to enjoy life with hers. One was illiterate; the other an author of some 30 books. One was beaten and oppressed; the other, by earthly comparison, blessed.
How different their lives were! Yet, in each of their hearts was the Spirit of God. They both knew the Lord, and, as they listened to and followed His voice, they lived lives that, together, impacted the entire world.
The tale of these two Harriets makes me think about our own world, our own society. Even as they in their individual circumstances sought justice in a society that allowed and even encouraged slavery, we have injustices in our world today that need to be righted. Who is responsible? Who can help? Who should help?
The tale of two Harriets tells me that we all can do our part.
Click here to read more.
SOURCE: Christian Post, Tosha Lamdin Williams