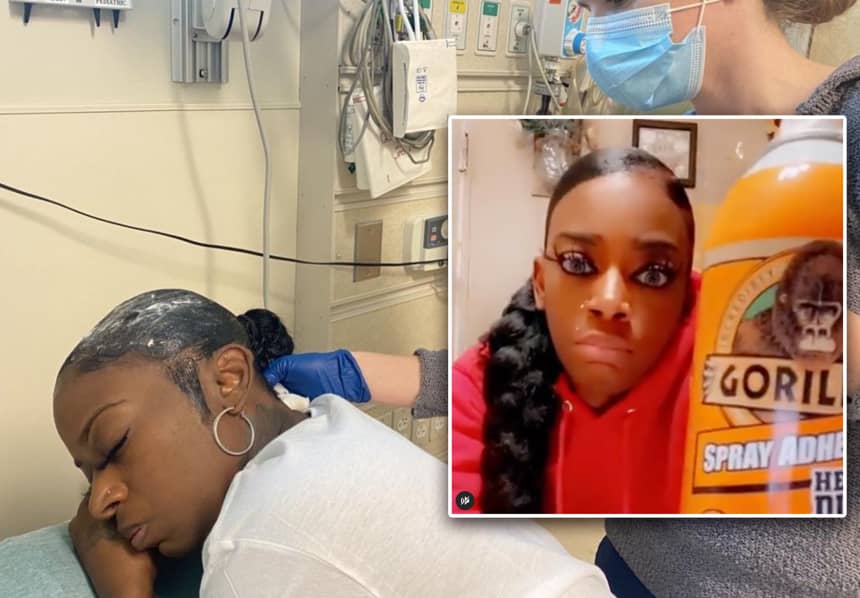 The glue is gone.
Tessica Brown from Louisiana has captivated social media over the past week after revealing that she used Gorilla Spray Adhesive by Gorilla Glue to set her updo in place after she ran out of her go-to hair spray — leaving her hair stuck in the braided ponytail for about a month.
Brown, 40, shared her attempts to free herself from her "forever ponytail" over TikTok, Instagram FB, -0.79% and Twitter TWTR, 0.02%, which included a trip to the emergency room and painful acetone treatments that weren't successful.
Viewers including Chance the Rapper, "The View" co-host Sunny Hostin and Beyonce's stylist Neal Farinah have shared their support and suggestions for getting the superglue off her scalp. And so did Dr. Michael Obeng, a Beverly Hills plastic surgeon who offered to take a crack at what he estimated would be a $12,500 procedure for free. So Brown, whose GoFundMe fundraiser has collected more than $20,000 to cover her medical bills, flew to Los Angeles on Wednesday in hopes of freeing herself at last. And it appears Obeng was successfully able to remove the industrial-strength adhesive.
🚨 The Gorilla Glue is finally out of Tessica Brown's hair 🚨 https://t.co/GCn3VqTu9A pic.twitter.com/ZVRDDloUTF

— philip lewis (@Phil_Lewis_) February 11, 2021
TMZ documented the four-hour procedure, which involved combining medical-grade adhesive remover, aloe vera, olive oil and acetone to break down the polyurethane —aka the Gorilla Glue's main ingredient. He tested the solvent on a dummy scalp first before working on Brown, who was put under a light anesthesia during the procedure.
The footage shows her getting emotional as she runs her fingers through her hair for the first time in several weeks.
Click here to read more.
SOURCE: MarketWatch, Nicole Lyn Pesce