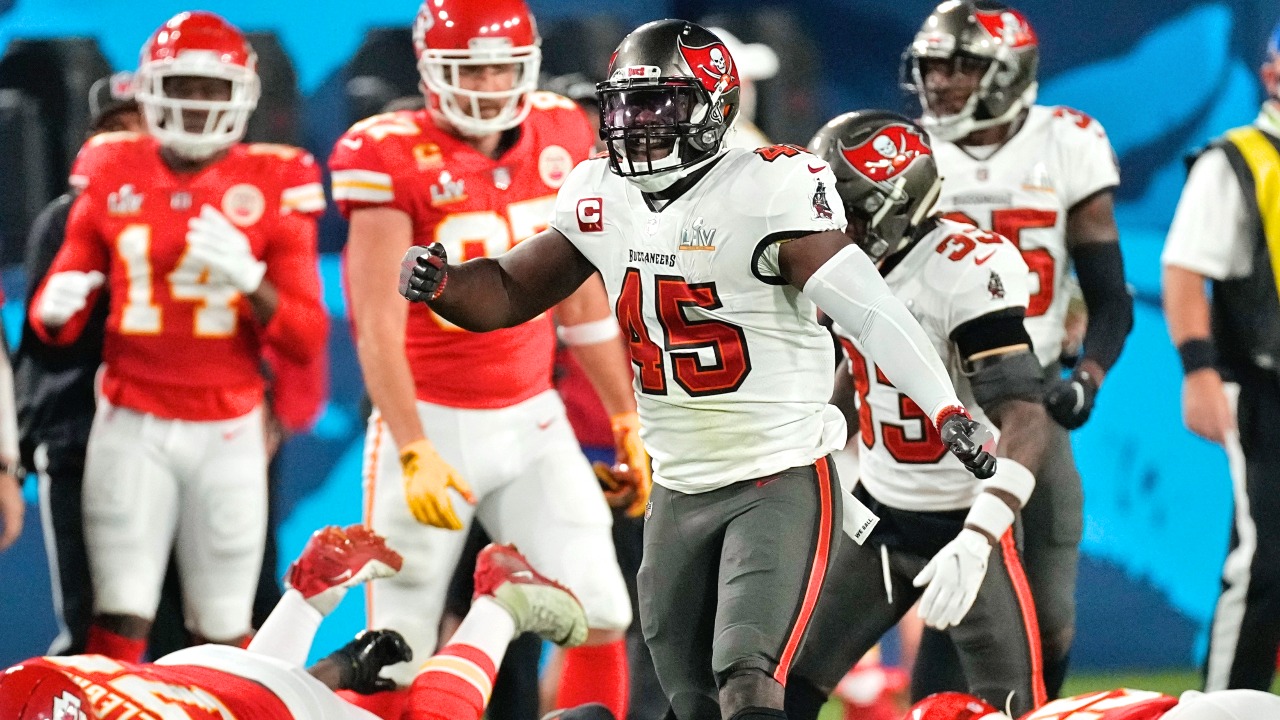 Super Bowl LV was expected to be a quarterback showdown. Arguably the greatest quarterback of all time — Tampa Bay's Tom Brady in his first season with a new team — against arguably the greatest quarterback of the younger generation — Kansas City's Patrick Mahomes trying to win back-to-back titles.
Only one quarterback was impressive Sunday night, and it was the 43-year-old Brady.
With three touchdowns on 21-of-29 passing (72.4 percent), 201 yards, no interceptions and a 125.8 passer rating (his best ever in a Super Bowl), Brady was awarded his fifth Super Bowl MVP after Tampa defeated K.C., 31-9. He was already the only player with more than three Super Bowl MVPs.
On the other side, Mahomes struggled to a 52.3 passer rating, the worst game of his four-year career. It was the result of zero touchdown passes, two interceptions, three sacks, 270 yards and 26-of-49 passing (53.1 percent). It's the first time since Sept. 29, 2019, that he was held without a touchdown pass, and only the fourth time in his career.
If an entire unit could win MVP, the Buccaneers defense would deserve it. The Tampa D pressured the QB all night.
The unit sacked Mahomes three times, hit him eight times, and pressured him countless other times. The Bucs finished the regular season ranked first in fewest rushing yards allowed (80.6), fifth in sacks (48.0), sixth in overall yards allowed (327.1), and eighth in points allowed (22.2). Then in the playoffs, the D stopped future Hall of Famer Drew Brees, 2020 NFL MVP Aaron Rodgers, and then Mahomes, whose 316.0 passing yards per game topped the league.
"When you're playing a good defense like that, you gotta be on the same page as an offense, and we weren't today," Mahomes said during his media session after the game. "That's why we played so bad."
Leading that stout defense Sunday night was second-year middle linebacker Devin White. The team captain and second-team All-Pro led all players with 12 tackles, and his fourth-quarter interception in the end zone sealed the game for Tampa Bay. Even with a 22-point lead, White said they wanted to keep the foot on the gas.
"We didn't want them to score. That was our biggest thing — we did not want them to score," White said about his "unselfish" defense during his media session after the game. "Everybody said they're the best offense in the world; they were going to score 30, 40. They didn't score a single touchdown."
When asked how he felt to be a Super Bowl champion, White said, "I'm so blessed. I'm so thankful … And I was just so thankful to be able to take the stage tonight. God was on our side and we put in a lot of work. I'm just so thankful."
Click here to read more.
SOURCE: Sports Spectrum, Jon Ackerman