If asked, most of us would admit that we're fallible. But all of us are sometimes tempted to act, or think, that we're not.  We wrap our emotions so tightly around our convictions that we become dogmatists — unwilling to be challenged, to genuinely consider that we might be wrong about things that are important to us.
But if we are going to get anywhere in life, then we have to be humble enough to be open to the possibility that we could be wrong about any number of things. This is especially important for those of us who seek to be followers of Christ: our ultimate allegiance is to God and, thus, to the truth.
I recently participated in Pepperdine University's President's Speaker Series with my good friend and fellow truth-seeker, Cornel West, professor of the practice of public philosophy at Harvard University and professor emeritus at Princeton University. In our dialogue "Honesty and Courage, Humility and Hope," we discussed the habits of heart and mind — the virtues  — that are required to engage in thoughtful and respectful conversation that explores diverse viewpoints.
Click here to read more.
SOURCE: Christian Post, Robert George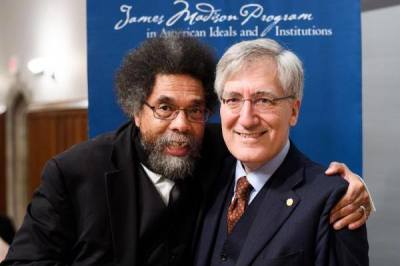 Robert George is the McCormick Professor of Jurisprudence and director of the James Madison Program in American Ideals and Institutions at Princeton University. He has served as chairman of the U.S. Commission on International Religious Freedom and as a presidential appointee to the U.S. Commission on Civil Rights. George has also served on the President's Council on Bioethics and as the American member of UNESCO's World Commission on the Ethics of Science and Technology. He was a judicial fellow at the Supreme Court of the United States, where he received the Justice Tom C. Clark Award.
A Phi Beta Kappa graduate of Swarthmore College, George holds degrees from Harvard University and Oxford University, in addition to 22 honorary doctorates. He is a recipient of the U.S. Presidential Citizens Medal, the Honorific Medal for the Defense of Human Rights of the Republic of Poland and is a member of the Council on Foreign Relations. His most recent book is "Conscience and Its Enemies: Confronting the Dogmas of Liberal Secularism."