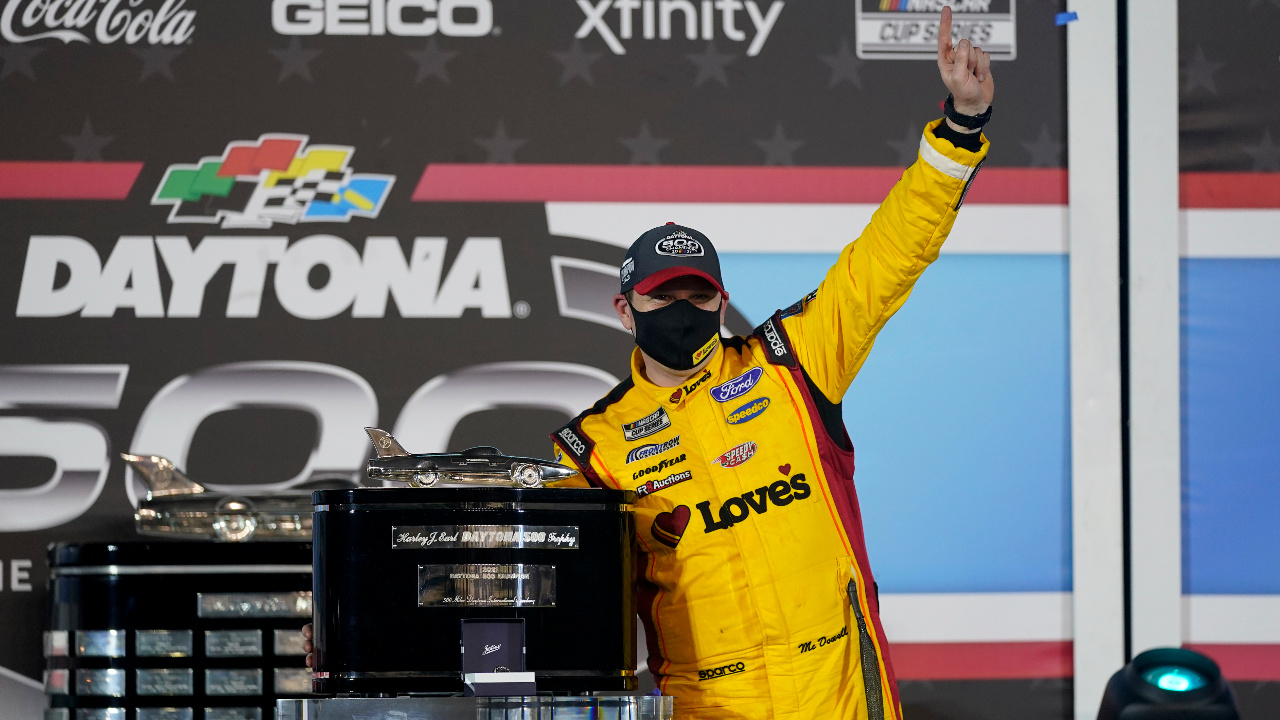 Entering Sunday's NASCAR season-opening Daytona 500 — the "Great American Race" — driver Michael McDowell was a 100-1 underdog. After the race, which ended shortly after midnight in Florida thanks to two fiery crashes on either side of a rain delay that lasted nearly six hours, it was McDowell celebrating in victory lane.
The win marked his first in the Cup Series after only four top-five finishes in 357 previous Cup Series starts during his first 13 seasons.+
"I just can't believe it," McDowell said on the track immediately following the race. "I've just got to thank God. So many years just grinding it out and hoping for an opportunity like this."
Dreams come true in the #DAYTONA500. @Mc_Driver reflects on an incredible victory in The Great American Race. pic.twitter.com/EhdEg6GhbH

— NASCAR (@NASCAR) February 15, 2021
Words just can't describe this feeling.

We won the #DAYTONA500 !! pic.twitter.com/7Q9wmy7oEV

— Michael McDowell (@Mc_Driver) February 15, 2021
In the No. 34 car for Front Row Motorsports, McDowell was involved in the first crash on lap 15, but his car didn't sustain enough damage to slow him down. He was third on the final lap when the two leading cars collided, causing another massive crash. McDowell emerged as the leader, and he held on to win. The final lap was the only lap he led.
Take a look at the accident that brought out the caution flag at the end of the #DAYTONA500. pic.twitter.com/M7AUZJ1c1C

— NASCAR (@NASCAR) February 15, 2021
Welcome home @NASCAR #Daytona500 Champ @Mc_Driver 🎉🏁🎉🏁🎈@BlakeKochRacing @tydillon @HaleyKDillon @Team_FRM #NASCAR pic.twitter.com/Pl31pS93Kl

— Wendy Venturini (@WendyVenturini) February 15, 2021
THIS IS HIS MOMENT!

Retweet to congratulate @Mc_Driver on winning The Great American Race! #DAYTONA500 pic.twitter.com/gX0f2TO78L

— NASCAR (@NASCAR) February 15, 2021
During his press conference following the race, McDowell was asked if winning this race matches the dream.
"It does, but whether I win this race or not, it's not what defines you," he said. "It's unbelievable and I'm so thankful, but I'm thankful to have a happy, healthy family and a beautiful wife and a great family. Not everybody makes it to victory lane and for 14 years I didn't, so just to be here now is just so amazing."
It was Joey Logano who held the lead down the final stretch of the final lap, but his Team Penske teammate Brad Keselowski tried to pass on the inside, and instead caused both to spin out. Logano was upset that he didn't win the famed Daytona 500, but he was happy for McDowell.
Click here to read more.
SOURCE: Sports Spectrum, Kevin Mercer