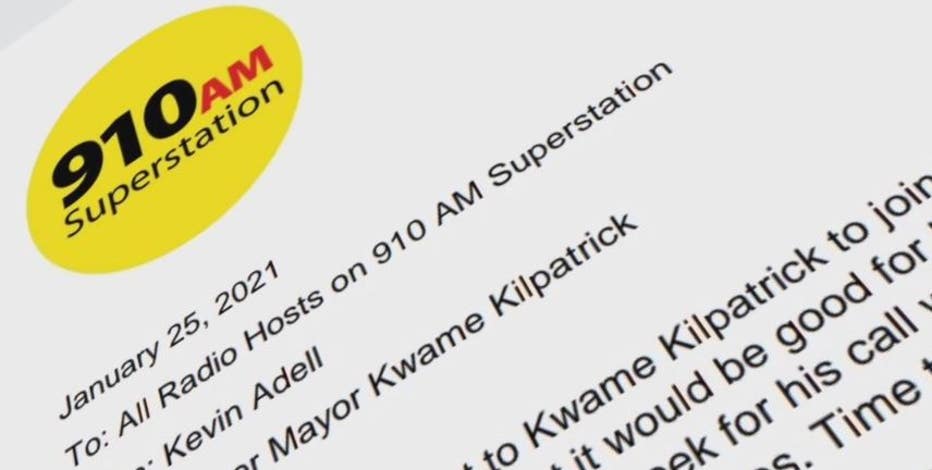 Kevin Adell, owner of WFDF-AM (910), has banned radio personalities and guests from mentioning Kwame Kilpatrick after the former Detroit mayor spurned a potentially lucrative job offer.
Adell describes a brief, unrequited and, eventually, bitter courtship launched after Kilpatrick left prison last month when President Donald Trump commuted the politician's 28-year federal prison sentence. Adell said he offered Kilpatrick, 50, the option of a morning or afternoon drive-time radio show on 910 Superstation and a half-hour show on his Word Network, the world's largest African American religious network that reaches more than 200 countries.
But Kilpatrick never responded, Adell says, rebuffing an offer that could help the politician satisfy probation conditions that include securing a job, and paying more than $1.7 million in restitution to the Internal Revenue Service and the Detroit Water and Sewerage Department.
"He blew it," Adell told The Detroit News on Tuesday. "I don't want him on. We don't want drama here."
Kilpatrick, who did not respond to a message seeking comment Tuesday, is the latest corrupt public official and figure to be courted by Adell. In recent years, his radio station roster has included former Detroit City Councilwoman Monica Conyers, political consultant Sam Riddle, Kilpatrick chief of staff Christine Beatty and Monica Morgan Holiefield, widow of United Auto Workers Vice President General Holiefield.
Detroit News columnists Henry Payne and Bankole Thompson host shows on 910 AM Superstation.
The courtship described by Adell started early last week.
He heard through intermediaries that Kilpatrick was interested in hosting a radio show on 910 AM as part of a broader plan that includes starting a ministry. Adell drafted a proposal for Kilpatrick to host a two-hour radio show, an unpaid gig that would provide a platform and potential income through paid advertising.
"Selling ads is like climbing Mt. Everest with flip-flops," Adell said. "Everyone here at 910 doesn't get paid. But it gives you an opportunity for a platform you wouldn't have otherwise."
The station owner gave his cellphone number to the Kilpatrick intermediaries, whom he declined to identify.
Click here to read more.
SOURCE: The Detroit News, Robert Snell