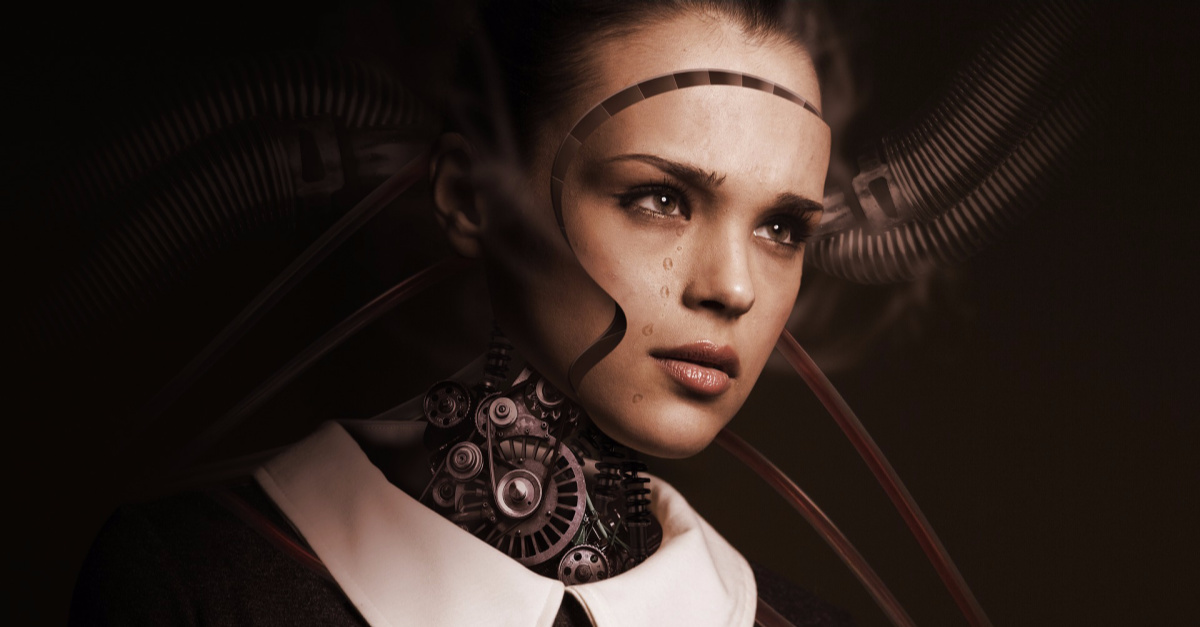 In 2010, a company called Hanson Robotics spent more than a hundred hours interviewing a woman named Bina. They collected memories of her childhood, noted her emotional reactions and mannerisms, uploaded the data into a mechanical bust that looked like the real Bina, and then programmed the robot to answer questions in real time. Robot Bina now resides in a research lab. Real-life Bina's partner said the venture was a shot at "immortality."
Recently, Hanson Robotics announced plans to release thousands of what they're calling "Sophia" robots. Sophia is a "social robot" that can perform rudimentary medical tasks, like taking a person's temperature, but can also make facial expressions and utter a few phrases. According to company CEO David Hanson, "Sophia" is programmed to offer "human warmth" and is being released this year especially in order to help elderly people who are living in isolation due to the pandemic.
Back in 1984, in her provocative book The Second Self, MIT professor Sherry Turkle made a prophesy of sorts. It was an expectation that seems obvious today but was pretty bold at the time. She predicted that computers would become more than just tools of mathematical calculation and increasingly become places where we live our lives. A decade or so later, in a book entitled Life on the Screen, Turkle predicted that we'd soon move beyond merely living some of our lives on the internet to creating entirely new, different, and multiple lives on the internet. So far, Turkle is two for two.
Turkle's third book, titled Alone Together, wasn't written until 2011. In it, she made another prediction. She believed that a culture so accustomed to digital life and so bad at human relationships would not be able to resist replacing those relationships with artificial intelligence. Again, Turkle got it right. The difference between this book and her previous two was that Turkle's optimism about where technology was taking us was gone.
Sophia the Robot is Turkle's prediction plugged in and turned on, with an important clarification: Hanson Robotics didn't make Sophia just because they could. They're capitalizing on something in our culture that needs to be recognized. We're failing each other.
In Alone Together, Turkle predicted that a culture obsessed with convenience would grow increasingly averse to the inconvenience of love. The rise in family estrangement during 2020 is just one piece of supporting evidence. Why bear with people when a robot that looks like a person can give us everything we think we want without all the neediness? A booming market for human-like artificial intelligence isn't just a sign that we're expecting too much from robots. As Turkle says in her subtitle, we're also expecting too little from each other. Maybe that's because we're giving too little to each other.
Click here to read more.
SOURCE: Breakpoint.org, John Stonestreet and Maria Baer
From BreakPoint. Reprinted with the permission of the Colson Center for Christian Worldview. All rights reserved. May not be reproduced or distributed without the express written permission the Colson Center for Christian Worldview. "BreakPoint®" and "The Colson Center for Christian Worldview®" are registered trademarks of The Colson Center for Christian Worldview.
John Stonestreet is the President of the Chuck Colson Center for Christian Worldview, and co-host with Eric Metaxas of Breakpoint, the Christian worldview radio program founded by the late Chuck Colson. He is co-author of A Practical Guide to Culture, A Student's Guide to Culture and Restoring All Things.