Question:  Why is it that so many progressive public policy initiatives in recent years seem to impact negatively the poorest sectors of American society?
It would seem to be counter-intuitive to even ask this question since progressives assert that these are the very people they care most about in society. Nevertheless, close examination reveals that even though unintended, the economic consequences of progressive policies have hurt poor people more than the more affluent segments of American society in recent years.
First, let's review where we were as a society just one year ago, just before the COVID-19 pandemic disrupted virtually every level in our society. Twelve months ago, we were enjoying the best economy within the living memory of any American born after World War II. Not only was the economy in the midst of historical growth, but the beneficiaries in terms of employment and higher wages were disproportionately the most historically disenfranchised members of our society. Unemployment in general was lower than it had been in several decades (even with a higher percentage of people entering the workforce than ever before). Unemployment figures for Hispanics, Blacks, and women were at the lowest levels since the government began keeping such statistics a half century ago. The unemployment rate of non-high school graduates had hit the lowest level in at least a half century. Then the COVID pandemic swept across America with horrendous economic and social consequences. For example, the severe lockdowns mandated by various governments at local and state levels (the more progressive the government, the more drastic the lockdown), as well as at the federal level since January 20, have hurt the working poor far more drastically than white collar workers. White collar workers can much more often transfer their work to remote locations such as their homes, whereas blue-collar workers have to show up and actually perform work at their restaurant, factory, or delivery service to earn their paycheck — and consequently they got laid off.
Click here to read more.
SOURCE: Christian Post, Dr. Richard Land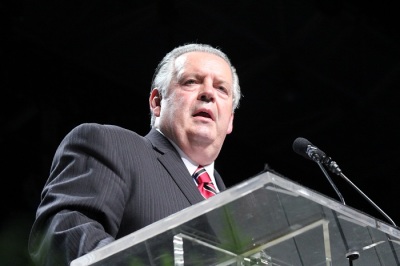 Dr. Richard Land, BA (magna cum laude), Princeton; D.Phil. Oxford; and Th.M., New Orleans Baptist Theological Seminary, was president of the Southern Baptists' Ethics & Religious Liberty Commission (1988-2013) and has served since 2013 as president of Southern Evangelical Seminary in Charlotte, NC. Dr. Land has been teaching, writing, and speaking on moral and ethical issues for the last half century in addition to pastoring several churches. He is the author of The Divided States of America, Imagine! A God Blessed America, Real Homeland Security, For Faith & Family and Send a Message to Mickey.