What an extraordinary fortnight the first two weeks of the Biden administration has been.  "Sleepy Joe," the invisible, "stealth" candidate, the moderate, sober antidote to the phalanx of progressively more progressive leftist democratic presidential candidates, has morphed into "whirlwind Joe," firing off Executive Orders at a record-breaking pace including greatly expanding the U.S. taxpayers funding of abortion both here and around the world.
President Biden is the second Roman Catholic to be elected president.  However, as JFK so cleverly put it 61 years ago in his appearance before the Protestant ministers gathered in Houston to hear him address the then controversial subject of his Catholicism —controversial because a Catholic had never been elected to the presidency to that point in the nation's history.
With a hint of irritation which can be both seen and heard on the video recording of the speech, JFK said, "for contrary to common newspaper usage, I am not the Catholic candidate for president, I am the Democratic party's candidate for president who happens also to be also a Catholic."  JFK then proceeded to expand by stating, "I do not speak for my church on public matters — and the church does not speak for me."
Click here to read more.
SOURCE: Christian Post, Richard D. Land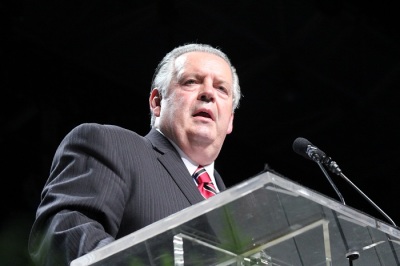 Dr. Richard Land, BA (magna cum laude), Princeton; D.Phil. Oxford; and Th.M., New Orleans Baptist Theological Seminary, was president of the Southern Baptists' Ethics & Religious Liberty Commission (1988-2013) and has served since 2013 as president of Southern Evangelical Seminary in Charlotte, NC. Dr. Land has been teaching, writing, and speaking on moral and ethical issues for the last half century in addition to pastoring several churches. He is the author of The Divided States of America, Imagine! A God Blessed America, Real Homeland Security, For Faith & Family and Send a Message to Mickey.