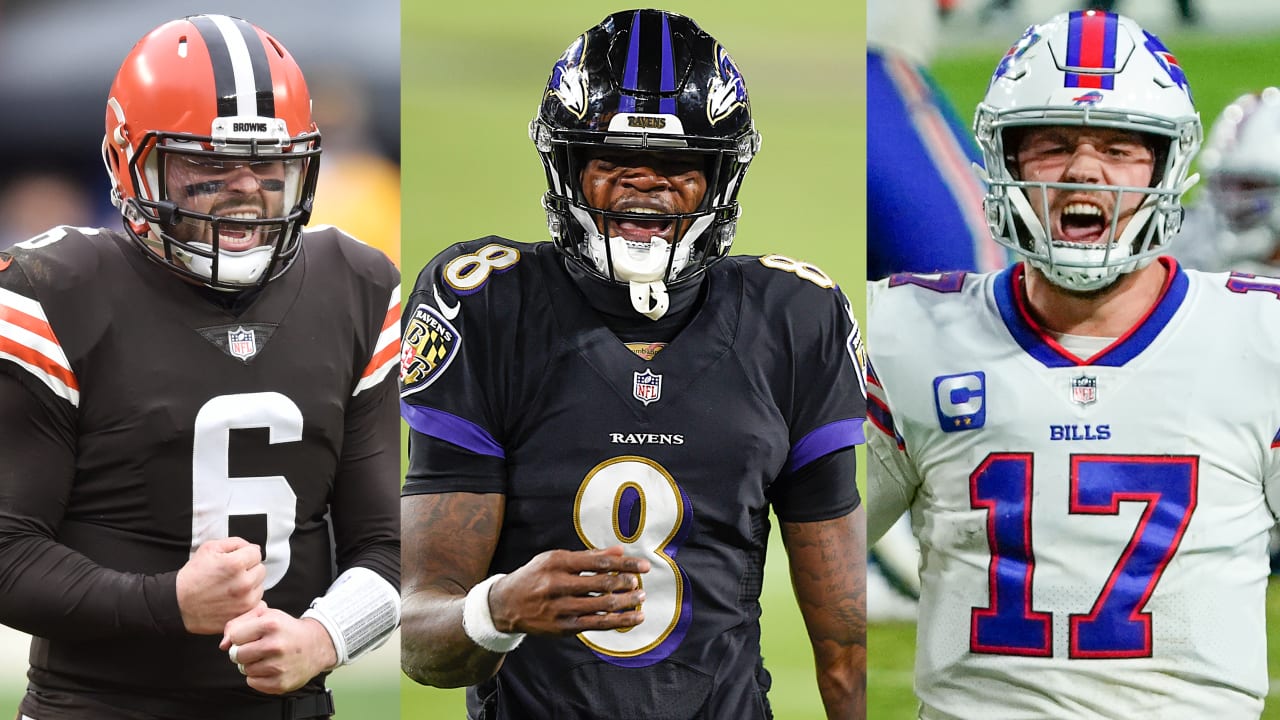 A quick read on items of interest for the NFL's divisional playoffs…
Lamar Jackson vs. Josh Allen. While the "History Channel Showdown" featuring Tom Brady and Drew Brees assures that at least one legendary quarterback will advance to the NFC Championship Game, the "Saturday Night Special" in Buffalo dictates that at least one of the young guns from the 2018 NFL draft class is headed to their first AFC title game, having broken through last weekend to win their first playoff games.
And if Baker Mayfield and Co. can spring an upset, the Class of '18 would have two of its members squaring off for a chance to advance to Super Bowl LV. Funny, though, that the winner on Saturday night could be determined by the legs of the quarterback as much or more so than by the arms. Sure, Allen's improvement as a more accurate passer this season has been spectacular. Even though he's running less than in the past, the win-or-go-home stakes of the playoffs dictates that the power-running threat from the physical quarterback (6-5, 237) is as real as ever. Perhaps he is most dangerous, though, when using his legs to extend plays that allows him to unleash his rocket arm. Jackson, meanwhile, on a hot streak since coming off the COVID-19 list in early December, has long proven how foolish the pre-draft comments were from Hall of Fame GM Bill Polian, who suggested that he switch to receiver because he didn't project as a classic passer. Oops. Break out the videotape from crunch time of the Monday night dramatics in Cleveland for a reminder of just how lethal the league's reigning MVP can be as a passer. Even though Jackson has passed for 200 yards just once during the Ravens' six-game winning streak, he's notched four games during that span with an efficiency rating above 100. He can throw dimes when needed. And with the Ravens style of power football, winning without huge passing stats from Jackson is a good thing for the flow of winning. Especially the constant threat that Jackson is just as likely to pop off a big play to juice the league's top rushing attack, as the momentum-swinging 48-yard TD bolt last weekend against the Titans illustrated. There's always a premium on running in the playoffs. Yet with Jackson and Allen poised to produce their own brand of history, even that concept is ever-evolving.
Pressure's on
Tom Brady. In 14 games against other opponents during the regular season, Brady was sacked just 14 times. In two games against the Saints, the Bucs quarterback was dumped six times. Not the ideal pattern as Tampa Bay tries to prevent a "three-sweep" by New Orleans. Protecting TB12 is always essential, but it has an added layer because he's thrown more deep passes than any quarterback in the league while running Bruce Arians' "no risk it, no biscuit" offense. Much heat during the first two matchups came from Trey Hendrickson, who led the Saints with 13 ½ sacks and collected three sacks in the two games against the Bucs by working over left tackle Donovan Smith. Hendrickson, though, is nursing effects from a stinger. Keep watch. Still, it's a group thing that the Bucs are contending with, which includes the coverage on the back end. Brady was lured to Tampa to win the type of big games we'll see on Sunday, but he can't do that without airtight protection when it matters most.
Key matchup
Marshon Lattimore vs. Mike Evans. In sweeping the Bucs the past two seasons, the Saints have used their aggressive, physical cornerback, Lattimore to almost exclusively lock down on the Bucs' big-play receiver. And it has worked like a charm. Evans hasn't scored a touchdown against New Orleans in the past four games, had just one catch in Week 1 and was shut out in one of the 2019 games. And he hasn't had more than 69 yards in any of of the contests. Unless proven less effective, expect the Saints to employ more of the same on Sunday. This has to burn Evans, given the depth of their personal beef. In 2017, Evans drew a one-game suspension from the NFL for running across the field and blasting Lattimore as some form of retaliation. The feeling of bad blood has long seemed mutual between these two.
Click here to read more.
SOURCE: USA Today, Jarrett Bell