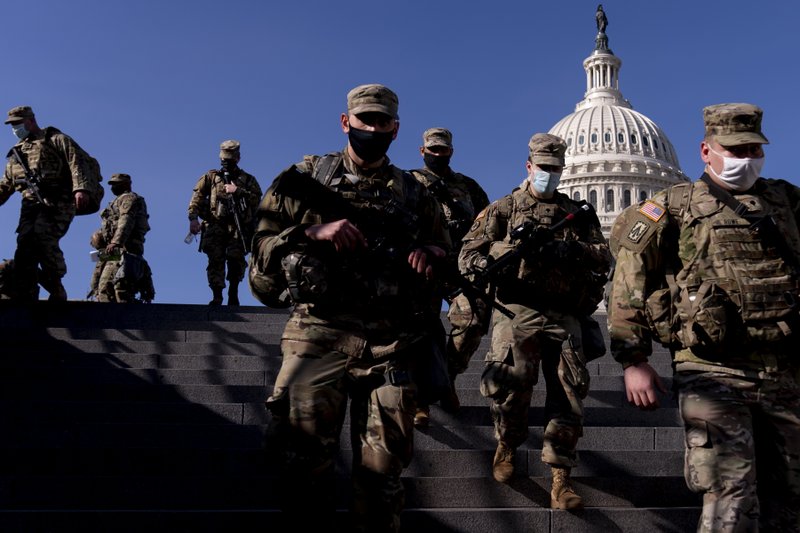 Next week's swearing-in of President-elect Joe Biden will see the biggest security presence of any inauguration in U.S. history. For days, thousands of National Guard troops have been pouring into the capital, and by Wednesday's ceremony, up to 25,000 troops will be in place to guard against security threats.
The nation's capital will look much different than it did in the days leading up to the attack on the U.S. Capitol building earlier this month. The area around the Capitol has been blocked off by barricades, and the National Mall is already closed to the public across its entire length — from the Capitol down to the Lincoln Memorial, 2 miles away.
"We cannot allow a recurrence of the chaos and illegal activity that the United States and the world witnessed last week," Matt Miller, head of the U.S. Secret Service's Washington field office, told reporters Friday.
Troops are pouring in from all over the country. "I'm sorry I have to ask you to leave your families and head down to our nation's capital because our country is so broken right now that we have to defend the constitution," Maj. Gen. Gary Keefe reportedly told Massachusetts National Guard troops Saturday morning.
Those troops will join the thousands of camouflaged troops already in the capital, many carrying M4 rifles. And workers are installing miles worth of metal fencing to hold people back. "It looks like a military staging area because that's exactly what it is," NPR's Greg Myre told All Things Considered.
There's really no historical precedent for this level of National Guard activation. DCist reports that more than 13,000 Guard troops were called into the District after the assassination of Martin Luther King Jr. in 1968 — the most to occupy a city since the Civil War. But that's only about half as many as are expected in the coming days.
To put things in perspective: Only 5,000 U.S. service members are currently stationed in Iraq and Afghanistan.
Click here to read more.
SOURCE: NPR, Matthew S. Schwartz