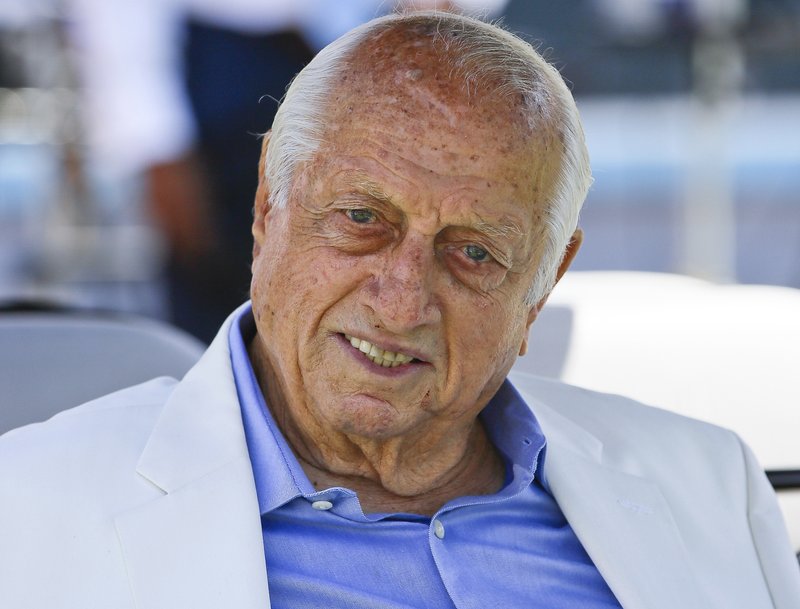 Tommy Lasorda, the fiery Hall of Fame manager who guided the Los Angeles Dodgers to two World Series titles and later became an ambassador for the sport he loved during his 71 years with the franchise, has died. He was 93.
The Dodgers said Friday that he suffered heart failure at his home in Fullerton, California. Resuscitation attempts were made on the way to a hospital, where he was pronounced dead shortly before 11 p.m. Thursday.
Lasorda had a history of heart problems, including a heart attack in 1996 that ended his managerial career and another in 2012 that required him to have a pacemaker.
He had just returned home Tuesday after being hospitalized since Nov. 8 with heart issues.
Lasorda attended the Dodgers' Game 6 victory over the Tampa Bay Rays on Oct. 27 in Texas that clinched the team's first World Series title since 1988.
"It feels appropriate that in his final months, he saw his beloved Dodgers win the World Series for the first time since his 1988 team," commissioner Rob Manfred said.
Lasorda had served as special adviser to team owner and chairman Mark Walter for the last 14 years, and maintained a frequent presence at games sitting in Walter's box.
"He was a great ambassador for the team and baseball, a mentor to players and coaches, he always had time for an autograph and a story for his many fans and he was a good friend," Walter said. "He will be dearly missed."
Lasorda worked as a player, scout, manager and front office executive with the Dodgers dating to their roots in Brooklyn.
He compiled a 1,599-1,439 record, won World Series titles in 1981 and '88, four National League pennants and eight division titles while serving as Dodgers manager from 1977 to 1996.
Click here to read more.
SOURCE: ESPN