I cannot help but think that a large majority of American citizens are very, very concerned about the current state of our union.
The increasing hostility and political protests that have roiled our society for the past few years seem to be reaching a crescendo in the events that have unfolded in the aftermath of an extremely acrimonious election cycle in which there seemed to be little common ground. Many people have blamed President Trump for this increasing level of incivility, but he was more a symptom and a product of the dissatisfaction and unrest of many citizens, rather than its progenitor.
Throughout the summer and fall of 2020, numerous people were quoting the late, great Martin Luther King Jr., who had sought in 1967 to explain the phenomenon of "riots" without condoning them, observing that "A riot is the language of the unheard." The left was quick to seize upon this explanation as a reason for the violent protests that wracked many of our cities in the summer and early fall of 2020. Mr. Trump, the first president to be elected without any prior political service, or alternatively just having won a war (generals Washington, Grant, and Eisenhower), was obviously a political phenomenon produced by a significant segment of the American population between the two coasts who felt "unheard" in their frustrations in being victimized by globalization and the consequent disappearance of their livelihoods.
Click here to read more.
SOURCE: Christian Post, Richard Land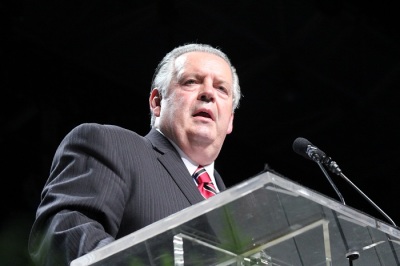 Dr. Richard Land, BA (magna cum laude), Princeton; D.Phil. Oxford; and Th.M., New Orleans Baptist Theological Seminary, was president of the Southern Baptists' Ethics & Religious Liberty Commission (1988-2013) and has served since 2013 as president of Southern Evangelical Seminary in Charlotte, NC. Dr. Land has been teaching, writing, and speaking on moral and ethical issues for the last half century in addition to pastoring several churches. He is the author of The Divided States of America, Imagine! A God Blessed America, Real Homeland Security, For Faith & Family and Send a Message to Mickey.