President Joseph R. Biden, Jr.
1600 Pennsylvania Avenue
Washington DC, 20500
Dear Mr. President,
As you doubtlessly know, a significant majority (at least 75%) of white and Hispanic Evangelicals did not vote for you.
However, Mr. President, please allow me to congratulate you on behalf of millions of Evangelicals on having been elected to serve in the highest political office in the land. And, make no mistake, we accept you as our president. You will not hear from us the dangerous nonsense, "He will never be our president."
As you doubtlessly know, the Bible exhorts us to pray for "kings and all who are in authority" (1 Tim. 2:1-2). I was raised in a devout Christian home where I was taught, as most Evangelicals are at an early age, to pray for the president every day, regardless of his or her political affiliation.
Click here to read more.
SOURCE: Christian Post, Richard D. Land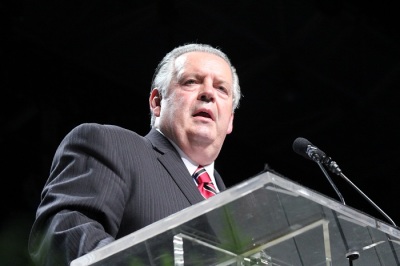 Dr. Richard Land, BA (magna cum laude), Princeton; D.Phil. Oxford; and Th.M., New Orleans Baptist Theological Seminary, was president of the Southern Baptists' Ethics & Religious Liberty Commission (1988-2013) and has served since 2013 as president of Southern Evangelical Seminary in Charlotte, NC. Dr. Land has been teaching, writing, and speaking on moral and ethical issues for the last half century in addition to pastoring several churches. He is the author of The Divided States of America, Imagine! A God Blessed America, Real Homeland Security, For Faith & Family and Send a Message to Mickey.