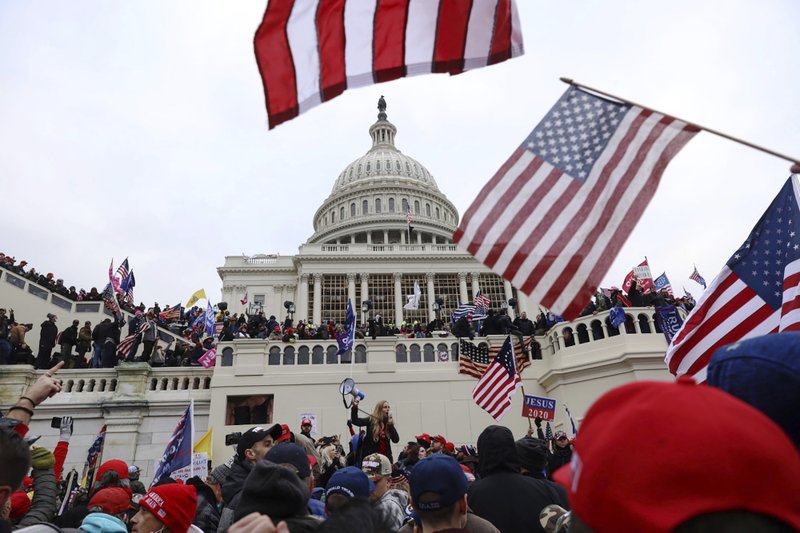 President Donald Trump was still in the midst of an incendiary speech outside the White House last Wednesday when some of his supporters began milling around the front of the U.S. Capitol a mile and a half away.
More followed in waves, their ranks soon multiplying into an angry crowd of thousands who felled the temporary perimeter fencing as if it were made of toothpicks and charged toward the marbled facade.
Over the next 60 minutes, the Capitol Police would fail miserably at its most basic job: preventing rioters from getting inside the building and disrupting the congressmen and women set to confirm the votes of the Electoral College.
Decisions made long before the chaos cast the die for law enforcement's failures, which played out in several critical moments captured in social media videos and news coverage.
Officers were overwhelmed, their shields ripped from their hands and used against them. They held a line with fencing and their bodies, only to have it breached. They were cornered, brawled with civilians and ended up bloodied. Their hesitancy to use lethal force – whether by design or decisions made on the fly – was exploited by streams of jeering rioters who made their way into the halls of the legislature, where they destroyed federal property and ransacked lawmakers' offices.
A call for help to the many nearby police forces did not go out until 2 p.m. By then, the rioters had breached gates around the perimeter; the Capitol Police had evacuated the building; and police were deep in hand-to-hand combat with protesters.
USA TODAY analyzed hours of footage from reporters and police scanner audio, as well as livestreams and videos posted to social media. Coupled with timelines released by the Pentagon and information requests to a half-dozen agencies, the chain of events raise a basic question: How did Capitol Police lose the Capitol?
When the entire story emerges in the coming weeks and months, law enforcement experts who reviewed that footage for USA TODAY say a reckoning may be painful for the forces that allowed the halls of Congress to be breached for the first time since 1814.
"They'll have to admit one of two things: Either they'll have to say that they can't protect the Capitol, or they'll have to admit that they gave certain people preferential treatment because they didn't view them as threats," said Christopher Chapman, a criminology professor at the City University of New York who spent nearly two decades training state and federal police officers. "And considering we have the most well-trained police force in the world, I doubt it's the first."
Click here to read more.
SOURCE: USA Today, Cara Kelly, Daphne Duret, Ramon Padilla, Erin Mansfield, Stephen J. Beard and Jayme Fraser