Question:  What is the significance of the president of the U.S. Conference of Catholic Bishops issuing a national statement "On the Inauguration of Joseph R. Biden, Jr. as 46th President of the United States of America?''
Amid all the hoopla of the presidential inauguration and President Biden's unprecedented flurry of Executive Orders, Archbishop Gomez's important statement has not received the serious level of attention it merits.
First of all, when the head of the U.S. Conference of Catholic Bishops (USCCB) issues a statement representing 75 million American Catholics (23% of the total U.S. population) concerning the first Catholic president since JFK's inauguration six decades ago, it is an important event.  When the statement is filled with as much spiritual substance as Archbishop Gomez's is, the statement deserves serious study and attention.
Archbishop Gomez, the Archbishop of Los Angeles, acknowledges that working with President Biden on moral, ethical, and social justice issues "will be unique," since President Biden is only the second "Catholic" president in American history and furthermore, is a man who professes that his Catholic faith is, and has been, very important in his life.
Click here to read more.
SOURCE: Christian Post, Richard D. Land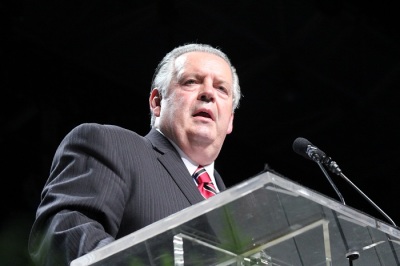 Dr. Richard Land, BA (magna cum laude), Princeton; D.Phil. Oxford; and Th.M., New Orleans Baptist Theological Seminary, was president of the Southern Baptists' Ethics & Religious Liberty Commission (1988-2013) and has served since 2013 as president of Southern Evangelical Seminary in Charlotte, NC. Dr. Land has been teaching, writing, and speaking on moral and ethical issues for the last half century in addition to pastoring several churches. He is the author of The Divided States of America, Imagine! A God Blessed America, Real Homeland Security, For Faith & Family and Send a Message to Mickey.