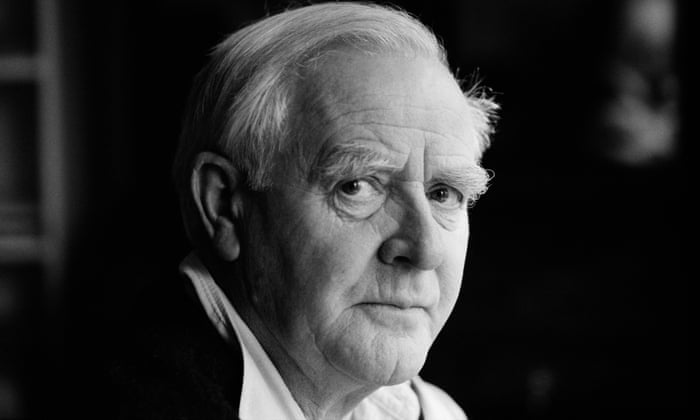 John le Carré, who forged thrillers from equal parts of adventure, moral courage and literary flair, has died aged 89.
Le Carré explored the gap between the west's high-flown rhetoric of freedom and the gritty reality of defending it, in novels such as The Spy Who Came in from the Cold, Tinker Tailor Soldier Spyand The Night Manager, which gained him critical acclaim and made him a bestseller around the world.
On Sunday, his family confirmed he had died of pneumonia at the Royal Cornwall Hospital on Saturday night. "We all deeply grieve his passing," they wrote in a statement.
His longtime agent Jonny Geller described him as "an undisputed giant of English literature. He defined the cold war era and fearlessly spoke truth to power in the decades that followed … I have lost a mentor, an inspiration and most importantly, a friend. We will not see his like again."
His peers lined up to pay tribute. Stephen King wrote: "This terrible year has claimed a literary giant and a humanitarian spirit." Robert Harris said the news had left him "very distressed … one of the great postwar British novelists, and an unforgettable, unique character." Adrian McKinty described Tinker Tailor Soldier Spy as "quite simply the greatest spy novel ever written", while historian Simon Sebag Montefiore called him "the titan of English literature up there with the greats … in person, captivating and so kind and generous to me and many others."
Born as David Cornwell in 1931, Le Carré began working for the secret services while studying German in Switzerland at the end of the 1940s. After teaching at Eton he joined the British Foreign Service as an intelligence officer, recruiting, running and looking after spies behind the Iron Curtain from a back office at the MI5 building on London's Curzon Street. Inspired by his MI5 colleague, the novelist John Bingham, he began publishing thrillers under the pseudonym of John le Carré – despite his publisher's advice that he opt for two Anglo-Saxon monosyllables such as "Chunk-Smith".
A spy modelled on Bingham, who was "breathtakingly ordinary … short, fat, and of a quiet disposition", outwits an East German agent in Le Carré's 1961 debut, Call for the Dead, the first appearance of his most enduring character, George Smiley. A second novel, 1962's A Murder of Quality, saw Smiley investigating a killing at a public school and was reviewed positively. ("Very complex, superior whodunnit," was the Observer's conclusion.) But a year later, when his third thriller was published, Le Carré's career surged to a whole new level.
Click here to read more.
SOURCE: The Guardian, Richard Lea and Sian Cain