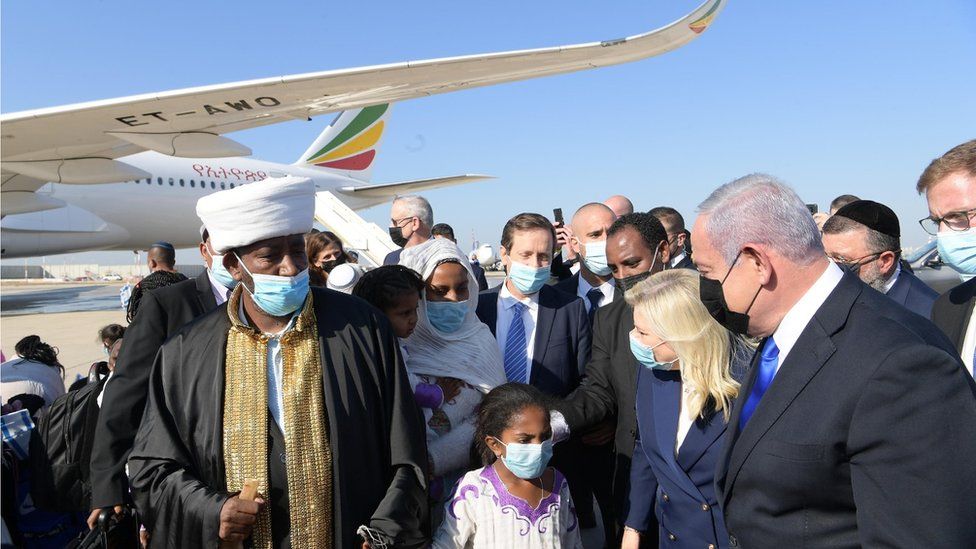 Hundreds of Ethiopian Jews have been airlifted to Israel – the first of several thousand waiting to emigrate there in a long-running saga.
Most of their community has lived in transit camps in Ethiopia for years as questions over their eligibility has dogged the process.
The immigrants are related to Ethiopian Jews brought to Israel decades ago in a series of secret operations.
The issue gained greater urgency in recent weeks as fighting between the Ethiopian government and local forces in the Tigray region threatened to spread south to Gondar city, where most of the Jews are now housed.
Israeli Prime Minister Benjamin Netanyahu and his political rival, Alternate Prime Minister Benny Gantz, greeted the 316 new arrivals at Ben Gurion Airport.
"My wife Sarah and I stood there with tears in our eyes at the welcoming," Mr Netanyahu said in a statement, "when we see the immigrants, our Ethiopian Jewish brothers, leave the plane… come down and touch the ground, the land of Israel.
"You waited so long to realise the dream and today it is being realised."
Click here to read more.
SOURCE: BBC News