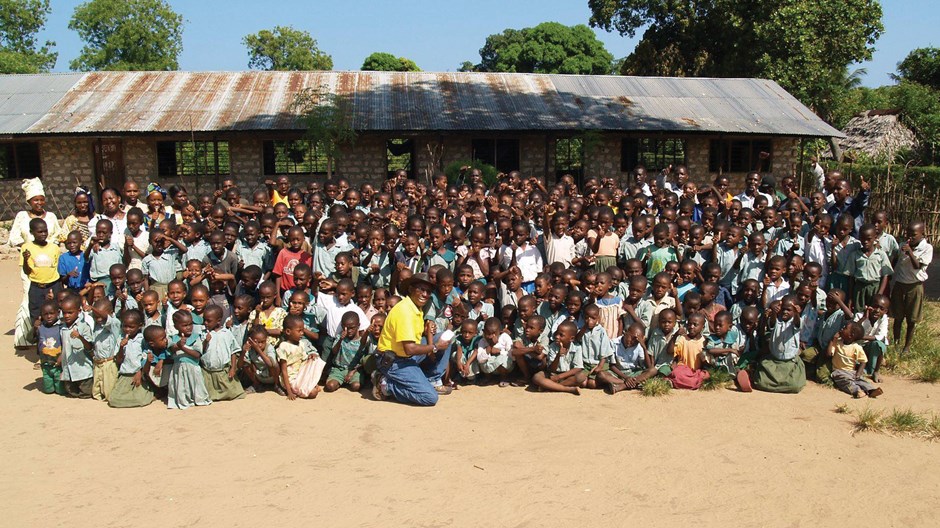 Dickson Mulli had just returned from a trip to the US and was working at his office in Nairobi when the first case of the novel coronavirus entered the country on March 12. Within days, the government ordered schools to shutter and nonessential workers to work from home. Within weeks, roads leading in and out of the city were closed.
While Mulli was concerned for his wife and one-year-old son, he also worried about the other people he was responsible for feeding: 3,500 former street children rescued by his father Charles's nonprofit and hundreds of employees.
"When you have all these children and there's a pandemic, and the roads and the markets are closed, what do you eat, and what do you do?" Mulli said. "During a pandemic, it's back to basics. It doesn't matter what kind of car you drive—you need food, you need peace of mind, you need good health—and of course, Jesus."
Around the world, many children's homes have been forced to close—for the best, some argue—since they could not guarantee the children's health or care during COVID-19. But Mully Children's Family (MCF) has not only been able to house, feed, and educate the hundreds of children in its care, it has also kept them safe and counseled them through the anxieties of an uncertain year.
Mulli—also spelled Mully in Kenya—estimates that in over 31 years, around 23,000 children have come through MCF's various residential facilities. The organization has become a darling within some Western church circles, a model tale about a Kenyan man investing his life to help Kenyan youth. MCF has in recent years become more self-sustainable and built partnerships with Western funders.
MCF leaders, however, say they are now facing the greatest test in their organization's history: seeing whether all their preparations and plaudits will be enough to endure a pandemic.
C
harles Mulli grew up as the oldest of ten children in a small village in Machakos County, Kenya. His mother and his father, an often-violent alcoholic, worked as farm hands to provide for their family. But when he was six, Mulli's family abandoned him to find better work, leaving him in the care of an aunt. "I lived on begging from people house to house; it was terrible," he said. He finished primary school (eighth grade) at age 17 but never proceeded to secondary school, unable to pay the school fees.
"The only difference between me and the present-day street children is that I never roamed around in town streets or sniffed glue," Charles wrote in his memoir, My Journey of Faith. "Still, I had many similarities with them. I regularly begged for food from neighbors and wandered a lot in the village, to the point that I became a nuisance. . . . I chose to be ashamed and embarrassed rather than to die of hunger."
Determined to make a life for himself, 18-year-old Charles walked the 70-kilometer journey to Nairobi, where he knocked on doors and asked around for work until he secured a position doing housework in a wealthy businessman's home. The abandonment and abuse by his father sowed seeds of bitterness and anger in young Charles's heart. By his late teen years, he contemplated taking his own life. But an acquaintance invited him to church. Despite his irreligious background, Charles found Jesus—and was suddenly filled with new purpose.
Over time, Charles rose into management at the man's agricultural company and eventually started his own company, Mullyways—providing transportation between the capital and local villages. Business boomed; he diversified his entrepreneurial endeavors to oil, gas, and real estate and eventually purchased 50 acres of land in the Ndalani region for future retirement.
But one day on a business trip, Charles was approached by a group of street children who asked to watch his car in exchange for money. He ignored them. Later, he returned to discover that his car was gone. Forced to ride home via bus—possibly one of his own—Charles fell into an existential crisis that haunted him for three years. Why had he ignored the street children? After all, they were just like him! In November 1989, he felt the overwhelming call to leave his companies behind to rescue street children. It was a transformational day.
" 'You will never let my children suffer. You have to rescue them and become the father to the fatherless,' " Charles said he felt God telling him. "[That] was a big day for turning completely around. I was 40 years old. The following day, I went to the street."
Charles and his wife, Esther, already had eight children—seven biological children and Charles's adopted younger sister. They took in three more kids from the street in 1989. Six years later, they were caring for 300.
Today, MCF's six campuses house or reach roughly 3,500 children."I went to the street with one purpose: to rescue children. Every child needs food, love, accommodation, education, protection, [a] good and bright future," Charles said. "Who then will reach to them with that love of Christ? I was one of them, one who is lost."
Initially, he funded 100 percent of the children's care from the sale of his businesses; when the money dried up, Charles sold his properties to support his rapidly growing "family." Now, MCF relies on a combination of farm production and fundraising from chapters in Canada, Germany, and the US. Some donors also sponsor individual children.
Charles's story—a homegrown leader rising from poverty to tackle his own country's problems, in contrast to outsider intervention—has inspired Western Christians and donors. It has spawned two biographies and a feature-length documentary about "the world's largest family."
"It's not 100 percent foolproof, but the local solutions are a good one; local leadership is a success, rather than a patriarchal approach," said Wheaton College director of humanitarian and disaster leadership Kent Annan. International aid experts often favor employing local leaders to solve humanitarian problems, since locals are familiar with their own contexts and are accountable to their own communities.
"What my dad once told me—when I asked him why he does what he does or does he enjoy serving the children—he told me he enjoys serving God more," Dickson Mulli said. "Because when he serves God, he serves the children. When he loves God, he loves them like God intended him to love the children. And when you focus on Christ, then you can be able to fulfill his purpose in other people's lives."
Click here to read more.
Source: Christianity Today