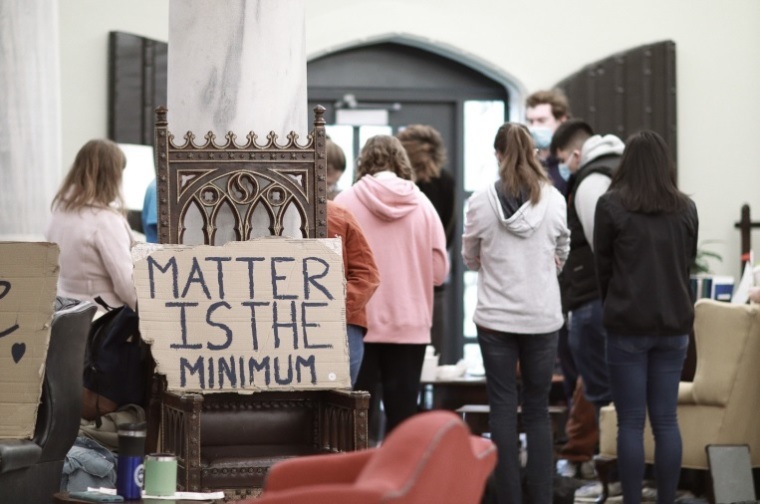 A group of some 100 students at Gordon College held a sit-in on campus in response to a racial incident involving a defaced T-shirt, with organizers arguing that not enough is being done to ensure African American students feel safe at the Massachusetts Christian institution.
The student group, All For Reclaiming Our Hamwe and Gordon College Student Association President Shineika Fareus, organized the sit-in protest last week at Frost Hall, which is the administrative building for the Wenham-based higher education institution with over 1,500 students.
The demonstration last Tuesday was sparked by a Nov. 1 incident in which a pro-Black Lives Matter T-shirt with the phrase "Yes they do" on the front was defaced with a racist slur and displayed on a residence hall laundry room table.
AFRO Hamwe President Orlane Destin told The Christian Post that the sit-in went on for 24 hours and was divided into different events during the two days that it was held.
"There was no interference with the college leadership per se in that they did not tell us we had to leave nor did they stop us from pursuing the sit-in," Destin said.
"The first day, which was Monday, was full of story sharing and calling the administration to action. And the next day was full of prayer but still active protesting in Frost as well as on our social media."
Destin did not view the defaced T-shirt as an isolated incident, but rather as "a true representation of the injustices and lack of cultural competency that continues to be ignored by President Michael Lindsay, the board [of trustees], and Gordon College's administration at large."
Click here to read more.
SOURCE: Christian Post, Michael Gryboski