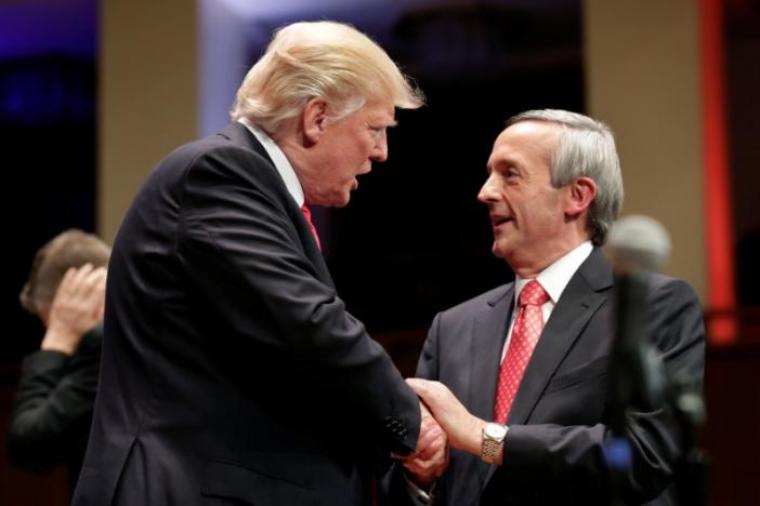 Texas megachurch pastor and prominent Trump supporter Robert Jeffress has refuted reports suggesting that he declared former Vice President Joe Biden the president-elect.
"Don't believe some false media reports that I have 'broken' with our great President @realDonaldTrump," the conservative pastor of First Baptist Dallas wrote in a tweet on Wednesday. "I support him completely. We do NOT have a 'president-elect' until electoral college votes December 14."
Jeffress, 64, made headlines this week after he wrote an op-ed for Fox News in which he said that even if the Democrat ends up winning the presidential election, the Bible commands Christians to "submit and pray" to government leaders even if they are not "our preferred candidate."
While the media speculates about allegations of election fraud amid reports of fraudulent votes cast for the deceased, non-state residents casting ballots, and demands for recounts, Jeffress wrote in the op-ed that it "appears" Biden will "become the 46th president of the United States on Jan. 20" unless Trump is successful in his "legal challenges to the counting of votes in several states."
For his part, Trump said he won't concede the race until every legal vote is counted, but added that he will concede if Biden is declared the winner.
While Jeffress did not declare in his op-ed piece that Biden was "president-elect," the headline that his op-ed was given on FoxNews.com reads: "Pastor Robert Jeffress: Biden is president-elect — how should Christians respond?"
Following the publication of his op-ed, other news outlets published their own articles about what Jeffress wrote in the op-ed. An ABC News headline read: "Pastor Robert Jeffress, staunch Trump evangelical supporter, calls Biden president-elect." Another article published by the popular culture news website UPROXX features the headline: "Even Pro-Trump Evangelical Pastor Robert Jeffress Wants The President To Concede Already."
Click here to read more.
SOURCE: Christian Post, Samuel Smith