This is the week that Americans from coast to coast cease their workaday activities and gather with friends and loved ones for Thanksgiving.  It is a time-honored ritual, observed by the overwhelming majority of Americans.  Alas, this year such gatherings are severely restricted by the Covid pandemic, but thankfully with vaccines on the way we can look forward to a resumption of this tradition next year.
What are the origins of this celebration, and what meaning should it have for Americans today?  Thanksgiving is a combination of two long-standing traditions in Anglo-American civilization, the joyous harvest festival and the more somber declaration of a day of prayer or thanksgiving in the midst of some national crisis.
The origin of the present American Thanksgiving, spiritually and emotionally, harkens back to the 1621 observation of a thanksgiving and harvest celebration by the Plymouth settlers in Massachusetts.  These English "pilgrims" left Plymouth, England on September 6, 1620 for the New World seeking religious freedom.  After a little more than two months at sea, they landed in what is now Massachusetts.  After signing the Mayflower Compact, the first document to introduce self-government to the New World, they disembarked from the Mayflower and began their settlement.  They faced a very harsh New England winter.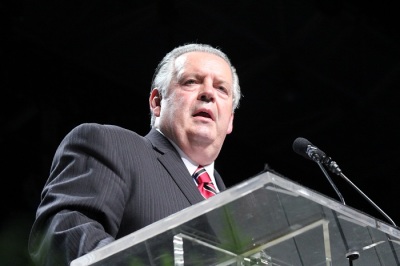 Unprepared for the brutal environment they faced, half the settlers died before spring.  However, with the help of Native Americans, they planted crops and reaped a sufficient harvest to carry them through the second winter in the New World.   It was now clear that they would not starve.  So these 17th century Christian Pilgrims held a feast of Thanksgiving to God for His beneficence and favor.  The three-day celebration commenced on December 13th, 1621, and included many of their Native American neighbors who had been so hospitable and helpful to them in their quest to survive.
Phillip Edward Winslow drew the following word portrait of this first Pilgrims' Thanksgiving: