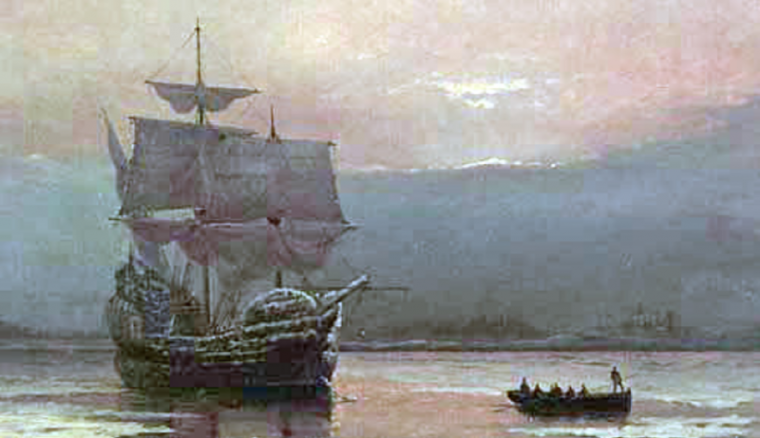 The Pilgrims sold nearly everything they owned, not just once, but twice. They first moved to Holland for about twelve years to escape persecution and the corrupt political ties between the Church of England and the King. They eventually sensed a calling from God to set up their own Christian colony in New England. Everything had to be sold once again to help raise the money to purchase the two ships they felt they needed and there would only be room for a very few personal belongings. Although they all knew that the trip had great risks, but being a united people of fervent prayer, they also knew what God was calling them to do.
From the first two ships purchased they ended up with only one, the famous Mayflower. This meant that only 102 pilgrims out of the 600 plus congregation from Holland were able to sail to New England. This was the final number and even John Robinson their pastor had to stay behind to shepherd the remaining flock.
It was decided the chief elder, William Brewster, would make the trip and be the group's teacher. William Brewster stated that he believed that God used the early difficulties to "sift" the congregation to allow only those that God had chosen to make that first voyage. Early journals record that Pastor John Robinson diligently sought the Lord with his congregation over every step of this voyage's undertaking. He felt specifically led by God that they were a chosen people and he declared that this new settlement would be "The New Jerusalem" forming the foundation for a truly Christian community.
Testimonies too numerous to mention in this article took place throughout this adventure. About halfway across the ocean during a large storm something incredible happened. The storm swells were so great and the ship was being tossed so severely that they feared the worst. "Suddenly a tremendous boom resounded throughout the ship. The huge cross beam supporting the mast had cracked and was sagging alarmingly," according to the book The Light and the Glory by Peter Marshall and David Manuel.  The pilgrims cried out an urgent prayer, "Yet Lord thou canst save!" About that time William Brewster remembered the great iron screw of his printing press. It was found, put into place, as a jack and cranked up. It met the beam and was successful in rising back to its original position! God used a special part from a printing press to save the Mayflower!
After arriving in America on November 9th, the first winter was very hard on them. By the end of March, 47 or nearly half of their original number had not survived the winter. Thirteen of the eighteen wives died. Only three families remained unbroken. Incredibly, these super heroes of faith although grieving, continued to trust in their God.
Click here to read more.