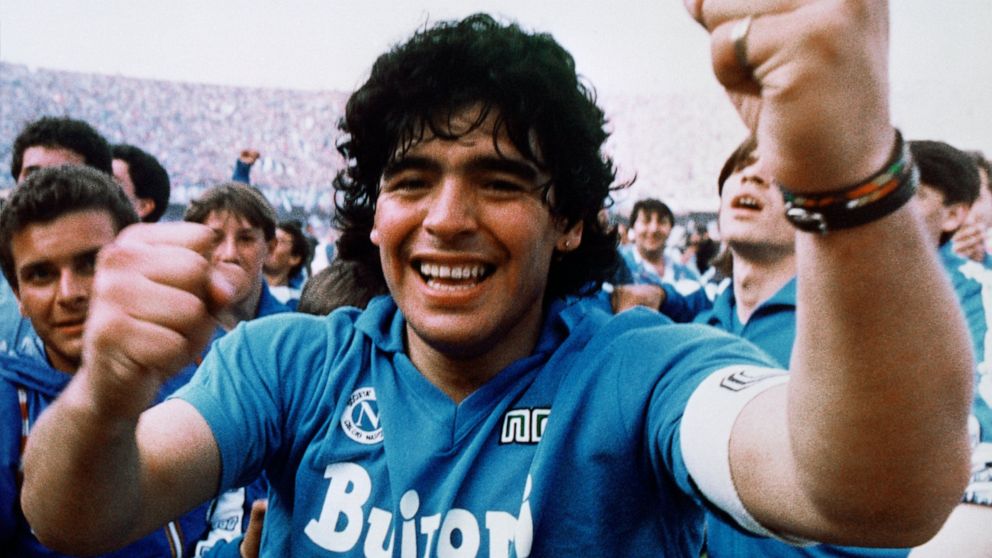 Argentine legend Diego Maradona died on Wednesday at the age of 60 at his home on the outskirts of Buenos Aires following a heart attack.
Matias Morla, Maradona's longtime agent, confirmed the news to Efe news agency. Maradona's spokesman, Sebastian Sanchi, said he died Wednesday of the heart attack, two weeks after being released from a hospital in Buenos Aires following brain surgery.
A statement from the Argentina Football Association read: "The Argentine Football Association, through its President Claudio Tapia, expresses its deepest pain at the death of our legend, Diego Armando Maradona. You'll always be in our hearts."
Argentina President Alberto Fernandez also confirmed three days of national mourning following the news. Fernandez posted a photograph of himself on Twitter hugging Maradona with the message: "You took us to the highest place in the world. You made us immensely happy. You were the greatest of all. Thanks for existing, Diego. We are going to miss you the rest of our lives."
One of the most famous moments in the history of the sport, the "Hand of God" goal, came when the diminutive Maradona punched the ball into England's net during the 1986 World Cup quarterfinals.
Ahead of his 60th birthday in October, Maradona told France Football magazine that it was his dream to "score another goal against the English, this time with the right hand."
Maradona also captivated fans around the world over a two-decade career with a bewitching style of play that was all his own.
Although his reputation was tarnished by his addictions and an ill-fated spell in charge of the national team, he remained idolised in football-mad Argentina as the "Pibe de Oro" or "Golden Boy."
The No. 10 he wore on his jersey became synonymous with him, as it also had with Pele, the Brazilian great with whom Maradona was regularly paired as the best of all time.
The retired Brazilian star mourned the death of Maradona in a brief statement provided to Reuters by a representative.
"Certainly, one day we'll kick a ball together in the sky above," he said.
CONMEBOL, the South American Football Confederation on Wednesday announced that it would reschedule the Copa Libertadores match between Maradona's former club in Argentina, Boca Juniors, and Internacional. The match will now be played on Dec. 2.
Argentina and Barcelona star Lionel Messi was among hundreds of players to send messages remembering Maradona as well as condolences to his family.
Per Sempre 💙
Ciao Diego pic.twitter.com/LzppqlBqLV

— Official SSC Napoli (@sscnapoli) November 25, 2020
Lakers great Kobe Bryant, who died in January of this year, was once interviewed by a Spanish-language TV station, and told reporters that Maradona was his idol.
"I love Maradona. When I was young in Italy, I used to always watch Maradona when he played for Napoli," the NBA great, who spent seven years of his childhood in Italy, had said.
Maradona had recently battled health issues and underwent emergency surgery for a subdural hematoma several weeks ago.
Pope Francis, who is from Argentina and a known supporter of San Lorenzo, also mourned Maradona's passing.
View this post on Instagram
"The pope was informed about the death of Diego Maradona, he recalls the times he met him in these past years with affection, and he is remembering him in his prayers, as he did in the past days when he was informed about his condition," Vatican spokesman Matteo Bruni said.
Born in 1960, Maradona captained Argentina to World Cup 1986 glory as well as reaching the final in 1990. At the height of his club career, at Napoli from 1984 to 1991, he helped the side win its only two Italian league titles. There were also notable lows, such as when he was kicked out of the 1994 World Cup after being found guilty of doping.
Napoli said on Wednesday the death was a "devastating blow" for both the city and the club. "We are in mourning," club spokesman Nicola Lombardo said. "We feel like a boxer who has been knocked out. We are in shock."
Click here to read more.
SOURCE: ESPN