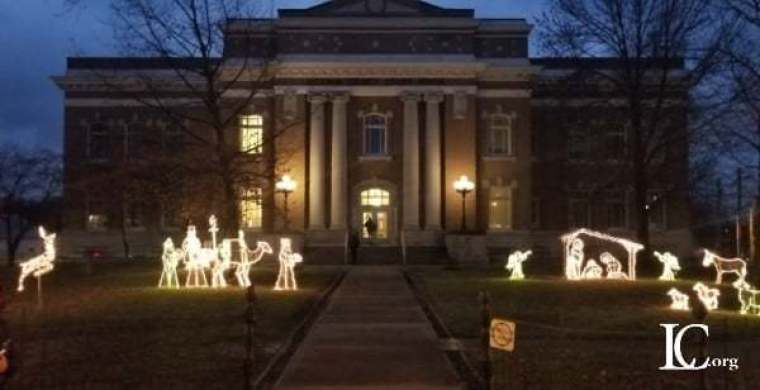 The legality of an Indiana courthouse's public Nativity scene was argued in federal appeals court Thursday, with religious freedom advocates contending that that U.S. Supreme Court precedent permits the presence of a Nativity scene on public land.
Lawyers from the Liberty Counsel, a conservative national nonprofit law firm devoted to preserving religious freedom in the United States, argued in front of the U.S. 7th Circuit Court of Appeals on behalf of Jackson County, Indiana.
The county is defending a Nativity display at its courthouse located in Brownstown. The Nativity display is one part of a larger Christmas display that is placed on the courthouse lawn on an annual basis.
The display also includes lighted figures of Santa Claus, a sleigh, reindeer and other non-religious holiday symbols. But in 2018, a "concerned local resident" contacted the Freedom From Religion Foundation to complain about the display.
FFRF, a secular legal group that advocates for a strict separation of church and state, promptly wrote a letter to the Jackson County commissioners in December 2018.
The group alleged that "it is unlawful for the County to maintain, erect, or host a holiday display that consists solely of a Nativity scene, thus singling out, showing a preference for, and endorsing one religion."
FFRF staff attorney Ryan Jayne cited the 1989 Supreme Court case Cty. Of Allegheny v. ACLU of Pittsburgh, where the court ruled that a Nativity display in a county courthouse had the "unconstitutional effect" of "promoting or endorsing religious beliefs."
Click here to read more.
SOURCE: Christian Post, Ryan Foley