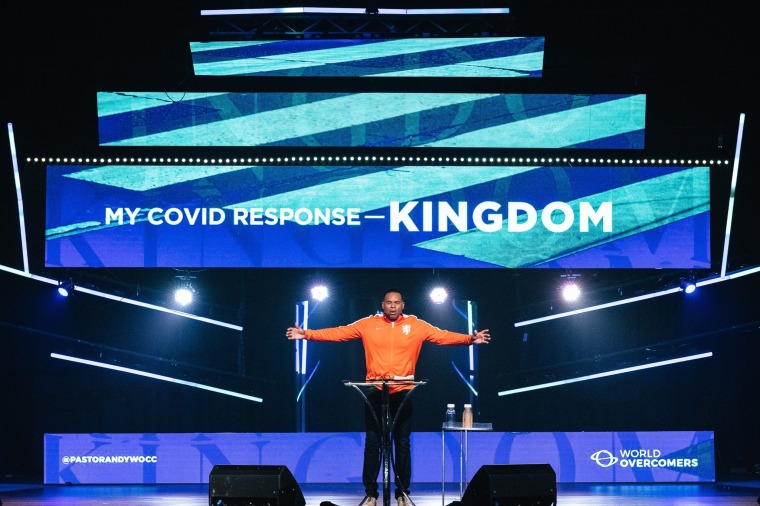 Responding to a new report showing a growing number of coronavirus cases connected to clusters in religious gatherings, World Overcomers Christian Church, one of North Carolina's largest churches, announced Thursday it will not hold in-person services until a vaccine is developed.
"When our people are able to come back together, they're going to want to greet one another and hug one another, and in my estimation, the risks are too great," Andy Thompson, senior pastor of the 15,000-member church, told CBS 17. "We have to figure out ways to minister to people beyond just them risking contact in the middle of a pandemic."
A report from the North Carolina Department of Health and Human Services released Wednesday said in the last two weeks, clusters of coronavirus infections from social gatherings have increased. A cluster is defined as the occurrence of five or more epidemiologically linked cases within 14 days of one another. The link could be through common residence, sports team, fraternal organization membership or similar gatherings.
Data from the report show religious gatherings ranking third on the list of settings creating clusters in the state.
Thompson, who before the pandemic did up to four services a day in Durham and Raleigh, said since he switched to virtual services, he has experienced growth in the number of people he reaches with his message and believes it's better to wait until cases stop spiking and a vaccine is developed before returning parishioners to the pews.
"Church for us is just growing. We've never had this many people watching," he said. "I don't think I'll ever go back to having church the way I did before."
He acknowledges that other pastors in his community have returned to holding in-person services, but he doesn't see it as a wise move.
"Every time they tell me they're having meetings, I always say, 'You might want to rethink that. Do you really have to have meetings to minister the gospel of Christ?'" he said, asserting that people need to adapt to the new world and "figure out a way to be effective when it comes to the future."
Thompson follows in the footsteps of other megachurch pastors such as Andy Stanley, leader of the multi-campus North Point Community Church in Alpharetta, Georgia, who announced earlier this summer a suspension of in-person services until 2021 because he cannot guarantee the safety of members in the wake of the pandemic.
Click here to read more.
Source: Christian Post