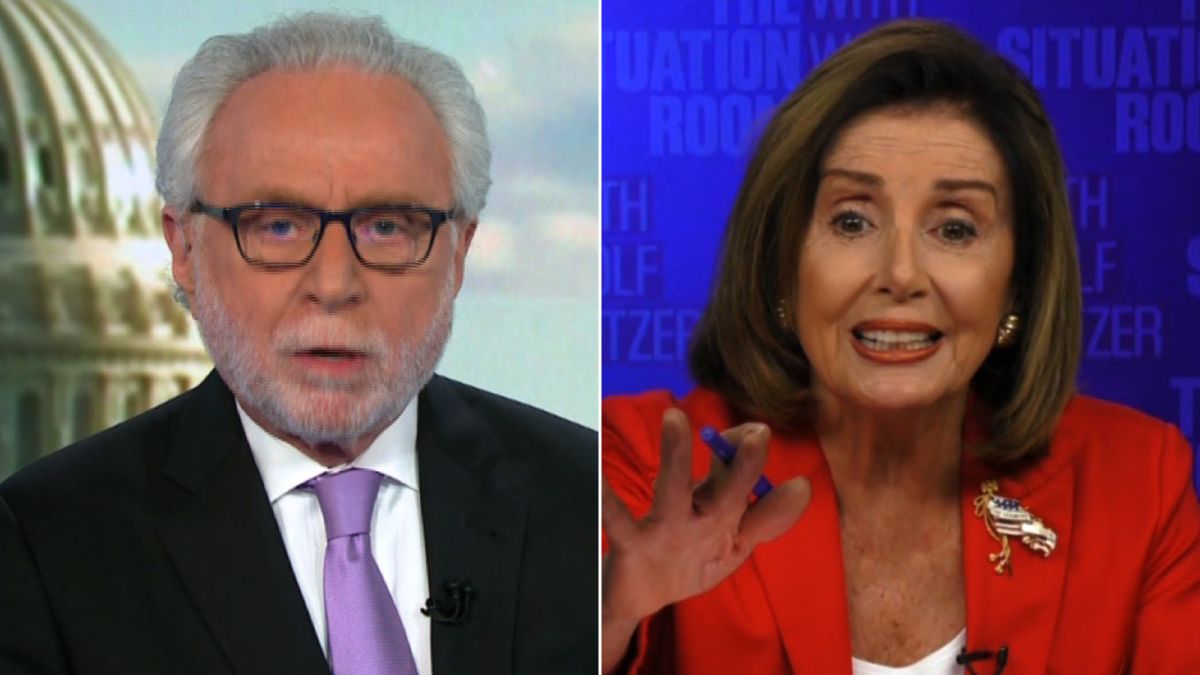 Speaker of the House Nancy Pelosi slammed veteran CNN host Wolf Blitzer as a 'Republican apologist' in a fiery meltdown on Tuesday evening.
During the heated live segment on 'The Situation Room', Blitzer pushed the Californian congresswoman to say why she is holding up President Donald Trump's $1.8 trillion COVID-19 relief bill, leaving Pelosi fuming that he didn't know what he was talking about.
Blitzer hit back by asking why Pelosi's Democrat allies are calling on her to get the deal done, citing the likes of former Democratic presidential candidate Andrew Yang and fellow California Democrat Ro Khanna.
The 80-year-old Speaker has found herself increasingly isolated in recent days as she is pushed from within her own party to reach compromise on a deal to bring further economic relief to the American people.
They have said that people struggling as a result of the coronavirus pandemic and the subsequent economic fallout cannot wait until February for another deal to be passed.
'I don't know why you're always an apologist — and many of your colleagues, apologists for the Republican position,' Pelosi responded as Blitzer mentioned Khanna's comments on the bill.
'Ro Khanna, that's nice. That isn't what we're going to do. And nobody's waiting until February.'
She said that she could not accept the Republican deal as it is, because child tax credits and earned income credits were 'eliminated'.
'They minimize the need for childcare, which is the threshold with which people, mothers and fathers, can go to work if they have that,' she added.
'I want this very much now, because people need help now, but it's no use giving them a false thing just because the president wants to put a check with his name on it in the mail.'
'We know the problem out there,' Blitzer interrupted, 'but there are millions of Americans who have lost their jobs. They can't pay the rent. Kids need the food—'
'That's right, and that's what we're trying to get done,' Pelosi fired back.
The fireworks began early in the interview as Blitzer off the bat asked Pelosi why she wouldn't accept the Republican party offer.
He asked her to look Americans 'in the eye… and explain why you don't want to accept the president's latest stimulus offer'.
'I hope you'll ask the same question of the Republicans on why they don't want to meet the needs of the American people,' Pelosi responded.
'But let me say to those people because all of my colleagues — we represent these people … and their needs are not addressed in the president's proposal. So when you say to me, "Why don't you accept theirs?' Why don't they accept ours?"'
Blitzer also asked Pelosi why she wouldn't call President Trump directly to try to work on the deal.
'Why not work out a deal with [President Trump] and don't let the perfect as they say here in Washington, be the enemy of the good?' Blitzer said.
'Well I will not let the wrong be the enemy of the right,' Pelosi answered.
'What's wrong with $1.8 trillion?' Blitzer asked, as he pressed her further.
'You know what, do you have any idea what the difference is between the spending that they have in their bill and what we have in our bill?' an increasingly frustrated Pelosi said.
'With all due respect you really don't know what you're talking about,' she snapped.
Pelosi added that she does not deal directly with Trump but with one of his representatives, but accused the president of only looking out for the wealthy.
'What makes me amused if it weren't so sad, is how you all think you know more about the suffering of the American people than those of us who are elected by them to represent them at that table,' Pelosi said.
She added that the Democrats who are criticizing her for not accepting the bill are not 'negotiating this situation'.
'They have no idea of the particulars. They have no idea of what the language is here,' she claimed.
The on-air spat continued until the dying seconds as both Pelosi and Blitzer attempted to have the last word and the speaker accusing the TV host of 'defending the administration all this time'.
'Madam speaker, these are incredibly difficult times right now and we'll leave on that note,' Blitzer said.
'No, we'll leave it on the note that you're not right on this, Wolf, and I hate to say that to you,' Pelosi responded. 'But I feel confident about it and I feel confident about my colleagues and I feel confident in my [committee] chairs.'
It continued for another minute with neither party willing to give in.
'Thank you for your sensitivity to our constituents' needs,' Pelosi said sarcastically, after Blitzer told her the bill is 'about millions of Americans who can't put food on the table, who can't pay the rent, and who are having trouble getting by'.
'I am sensitive to them because I see them on the street begging for food, begging for money,' Blitzer said.
'Have you fed them? We feed them,' she hit back, just as the segment was going to a commercial break.
The interview faced immediate criticism from Republicans who called on Pelosi again to work toward compromise.
'Nancy Pelosi is asked a simple question, and she immediately resorts to name-calling,' tweeted House Minority Speaker Kevin McCarthy.
'So I'll ask her again here: Speaker Pelosi: Why not make a deal? Millions of Americans are hurting while you single-handedly block support for workers and families.'
President Donald Trump on Friday offered a $1.8 trillion coronavirus relief package in talks with Pelosi after urging his team on Twitter to 'go big' – moving closer to Pelosi's $2.2 trillion proposal.
However, the proposal was dismissed by Pelosi as inadequate.
In a weekly letter to Democratic colleagues, she explained that the proposal lacked a 'strategic plan to crush the virus' and gave President Trump too much power in deciding how the funds would be spent.
'This proposal amounted to one step forward, two steps back,' Pelosi wrote.
Yet the House Speaker's decision drew criticism from some Democrats over the weekend, leaving Pelosi isolated in her refusal to accept the deal.
Khanna, as noted by Blitzer, wrote on Twitter: 'People in need can't wait until February,
'1.8 trillion is significant & more than twice Obama stimulus. It will allow Biden to start with infrastructure.
'Obama won in 08 by doing the right thing on TARP instead of what was expedient. Make a deal & put the ball in McConnell court.'
Andrew Yang tweeted on Saturday: 'Nancy Pelosi take this deal! Put politics aside people are hurting.'
Dan Pfeiffer, the co-host of the left-leaning podcast 'Pod Save America', also tweeted: 'While there are potential risks, Democrats should aggressively pursue a COVID Relief deal with Trump.
'It's the right thing to do, but the politics can also work in our favor.'
In a letter to lawmakers, Treasury Secretary Steven Mnuchin and White House Chief of State Mark Meadows said they would continue to talk to Senate Democratic leader Chuck Schumer and House of Representatives Speaker Nancy Pelosi to try to reach agreement on a comprehensive bill.
But they said Congress should 'immediately vote' on legislation to enable the use of the unused Paycheck Protection Program funds, which total around $130 billion.
'The all or nothing approach is an unacceptable response to the American people,' they wrote.
Click here to read more.
SOURCE: Daily Mail, Frances Mulraney