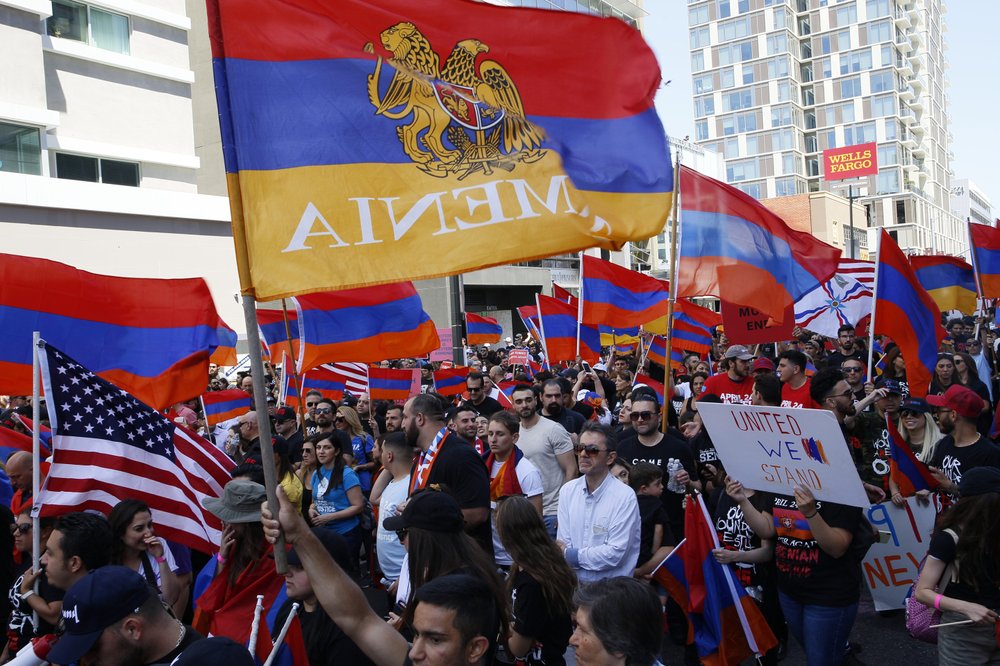 Tens of thousands of demonstrators protested outside the Turkish Consulate in Beverly Hills on Sunday afternoon in a show of solidarity with Armenia in its battle with neighboring Azerbaijan over a tiny separatist region on the border of the former Soviet republics.
The crowd was estimated at 35,000 people, at its height stretching down Wilshire Boulevard from Fairfax Avenue to La Cienega Boulevard, Beverly Hills Police Lt. Todd Withers said. The Los Angeles Police Department's Wilshire Station later tweeted that the crowd had reached 100,000.
Since fighting broke out in the region Sept. 27, thousands of Armenian Americans and supporters have taken to the streets of Los Angeles to protest the hostilities more than 7,000 miles away, blocking major freeways and demanding that politicians back their cause. Some have left to fight on the front for their homeland or aid in the humanitarian side of the war effort.
At least 200 protesters gathered outside the Armenian Consulate in Glendale on Saturday night.
The demonstrators have focused their opposition on Turkey, which has expressed support for Azerbaijan, in part because of the two nations' strong ethnic ties.
Arutyun Kadzhikyan, 56, wept as he and other protesters gathered in L.A.'s Pan Pacific Park before marching to the consulate. The native of Armenia, who has been in the U.S. for 30 years, said Turkey and Azerbaijan were trying to carry out a genocide against his people.
"No more war, no more killing each other," said Kadzhikyan, who wore a mask with an image of the Armenian flag and a shirt embroidered with a peace sign.
Click here to read more.
SOURCE: LA Times, Lila Seidman