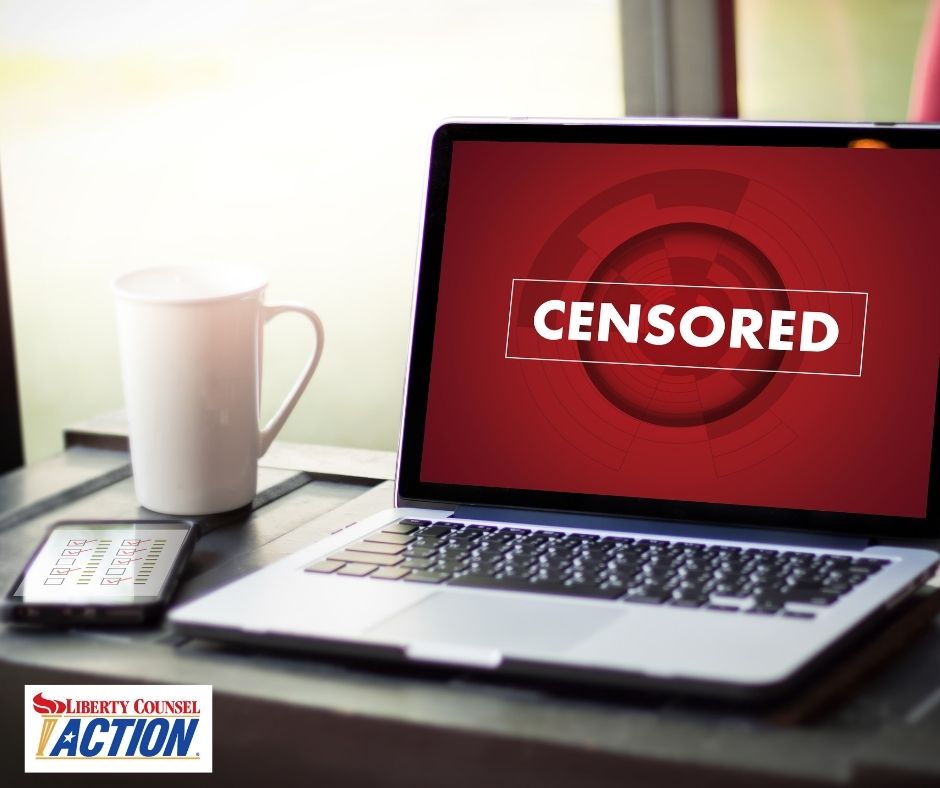 Liberty Counsel Action (LCA) filed a formal complaint with the Federal Election Commission against Facebook based on the social media's suppression of posts about the presidential election.
Federal law prohibits corporations such as Facebook from making "a contribution or expenditure in connection with any" presidential election. Contributions include "anything of value" given "for the purpose of influencing any election for Federal office."
Facebook has made expenditures to suppress posts that are seen as negative to the Biden/Harris political campaign. Some of the suppression methods include reducing distribution of posts and flagging content as false.
On October 12, LCA posted an article on Facebook entitled "Kamala Harris Tried to Put Pro-Lifers in Jail Who Exposed Planned Parenthood Selling Baby Parts." Facebook covered the post with a pop-up that said the article was false and linked to an article by PolitiFact. PolitiFact's article tried to cover up the fact that Harris initiated the investigation against two pro-life citizen journalists who were prosecuted for exposing Planned Parenthood. PolitFact claimed that "baby parts" is "misleading" because "fetal tissue" is used for medical research. However, PolitiFact did not explain that intact brains, hearts and other body parts were the source of the "fetal tissue." PolitiFact defended Harris and Planned Parenthood in the article but failed to disprove the article that LCA posted and Facebook suppressed.
However, sworn testimony in the legal cases of Sandra Merritt and David Daleiden reveal the gruesome truth about Planned Parenthood's trade in baby body parts that Facebook is censoring. For example, a stem cell expert testified that hearts from live aborted babies procured from abortion providers are being used for research studies. Another abortionist stated the scalps of aborted babies are grafted on to immune-suppressed mice and then are used on these humanized mice to test how to prevent and treat baldness. Another abortion doctor, Dr. Deborah Nucatola, described the criminal partial-birth abortion procedure using ultrasound guidance to flip a baby in the womb to feet-first breech position in order to extract the baby intact and harvest whole, fresh organs.
Dr. Nucatola said, "So then you're just kind of cognizant of where you put your graspers, you try to intentionally go above and below the thorax, so that, you know, we've been very good at getting heart, lung, liver, because we know that, so I'm not gonna crush that part, I'm going to basically crush below, I'm gonna crush above, and I'm gonna see if I can get it all intact. And with the calvarium, in general, some people will actually try to change the presentation so that it's not vertex, because when it's vertex presentation, you never have enough dilation at the beginning of the case, unless you have real, huge amount of dilation to deliver an intact calvarium. So if you do it starting from the breech presentation, there's dilation that happens as the case goes on, and often, the last, you can evacuate an intact calvarium at the end…And, we've been pretty successful with that. I'd say."
Facebook used the PolitiFact article to suppress that information regarding Kamala Harris' involvement from potential voters, and its approved "fact-checking" is skewed in favor of the Biden/Harris campaign. PolitiFact claims that the post about Kamala Harris trying to put pro-lifers in jail was incorrect because Harris left office before the pro-life undercover journalists were charged. However, without Harris' investigation, charges would never have been filed by her successor. Harris was responsible for beginning the investigation against the pro-life citizen journalists.
PolitiFact claims that the term "baby parts" is "wrong and greatly misleading" because "donated fetal tissue" is a source of fetal cells for research. However, the usage of the body parts after sale is irrelevant. In fact, as a result of the undercover journalists' videos, the Orange County, California District Attorney successfully gained the closure of companies that illegally sold fetal tissue acquired from abortions. "This lawsuit is aimed at taking the profit out of selling body parts," said the D.A.
Finally, PolitiFact claims that "state investigations have yet to find any evidence that Planned Parenthood was selling or profiting off fetal tissue," but ignored any federal action against Planned Parenthood, specifically failing to mention the Senate Judiciary Committee's criminal referrals of Planned Parenthood to the FBI.
PolitiFact admits on its website that Facebook expenditures cover more than five percent of its annual funding. Therefore, Facebook is hiding its election involvement behind what it calls "independent fact-checkers" like PolitiFact. Facebook's suppression activities provide substantial value to the Biden/Harris campaign as much as any cash contribution. The truth or falsity of any post Facebook suppresses that hurts or helps a campaign is irrelevant. Corporations cannot spend money as Facebook has done to help the Biden/Harris campaign.
LCA Chairman Mat Staver said, "Liberty Counsel Action filed a complaint with the Federal Election Commission to protect the right of voters to access information and decide for themselves regarding political candidates. Facebook is violating federal election law to sway the election."
SOURCE: Liberty Counsel Action