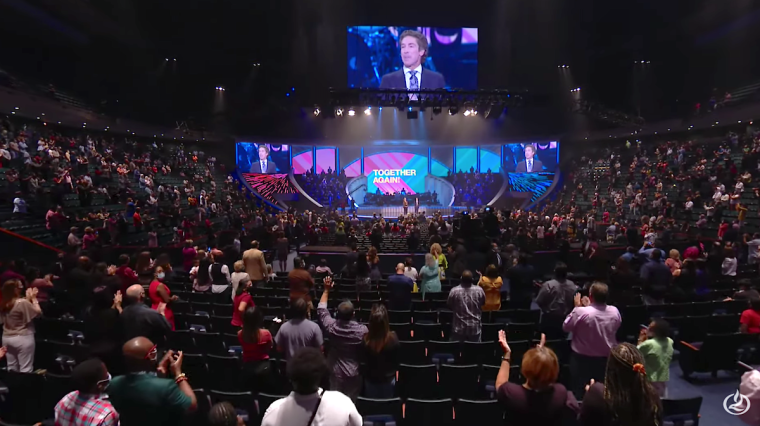 Lakewood Church in Texas reopened its doors for its first in-person worship service on Sunday since the COVID-19 pandemic-related restrictions began in March. An emotional Pastor Joel Osteen spoke about reigning over problems to more than 4,000 people.
"About a month ago, or a few weeks ago, I felt like God put in my spirit it was time to come back," said the pastor of the Houston megachurch, which held the indoor service at 25% capacity. Attendees were required to wear masks at all times and follow social distancing.
"We've never been closed; the building was closed but can I tell you these last months, we have had our greatest outreach of ministry in 61 years," Osteen told the congregation, sharing that 12 million people watched the service online during Easter weekend.
"God has raised up Lakewood for this time. Hey, when does the world need hope any more than now?"
During his sermon, Osteen said, "We were not created to go through life overcome by problems, struggling to make it in mediocrity … God created us to reign, to be the victor, not the victim."
We can reign over all our problems, he added. "Things that have been reigning over you, the loneliness, the guilt, the bad breaks, there's about to be a turnaround. It's your time to reign."
He later added, "You don't have to be perfect. We've all made mistakes. It's not so much about your performance. It's about your heart. Keep God first place. Do the right thing when it's hard. Say no to things that are pulling you down … God is saying to you what He's saying to Joash (2 Chronicles 23), 'It's time for the King's children to reign.'"
Click here to read more.
SOURCE: Christian Post, Anugrah Kumar