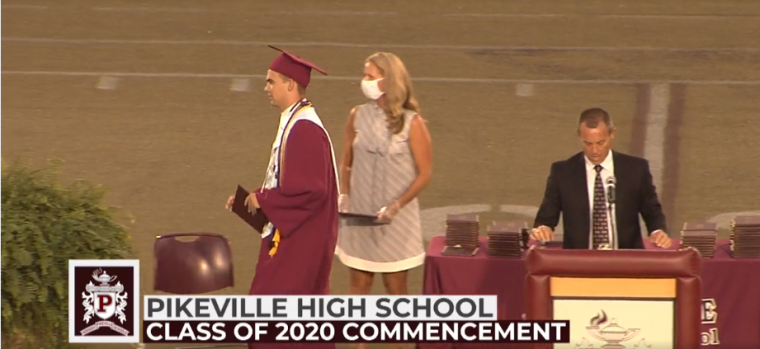 A school district in Kentucky has agreed to stop presenting prayers at its graduation ceremonies following a complaint from the Freedom From Religion Foundation, a prominent atheist group advocating for a strict separation of church and state.
According to a news release Thursday, Pikeville Independent School District's legal counsel recently told FFRF, "I have had the opportunity to review your attached letter and wanted to let you know that I have advised the principal to refrain from religious prayer at future graduations."
In July, FFRF sent Pikeville Independent Schools Superintendent David Trimble a letter on behalf of a "concerned citizen" who reported that the 2020 Pikeville High School graduation ceremony included three student-led prayers.
The letter cited the Supreme Court decisions in Lee v. Weisman and Santa Fe Indep. Sch. District v. Doe when making the case that prayers at school-sponsored events violate the First Amendment to the U.S. Constitution. "It is well-settled that schools may not include prayer in graduation ceremonies," the letter read.
The beginning of the ceremony featured an invocation, where a graduating senior at Pikeville High School thanked God for "the experiences we have had through this distinguished school" and "the teachers, coaches and staff that have put in countless hours to provide us with resources necessary to become successful." He also expressed hope that God would "continue to walk with us along our future endeavors and watch over as we continue this journey called life."
FFRF specifically took issue with the student's use of the phrases "Heavenly Father" and "In your son's name, we pray." The letter contended that the "exclusively Christian" prayers alienated the "38 percent of younger Americans who are not religious."
About halfway through the ceremony, the salutatorian gave an address, thanking his "Lord and savior, Jesus Christ" as he reflected on his high school experience. He urged his fellow graduates to "make the Word of God a priority in your life as we leave high school and head off into the workforce, military, or higher education."
Click here to read more.
SOURCE: Christian Post, Ryan Foley