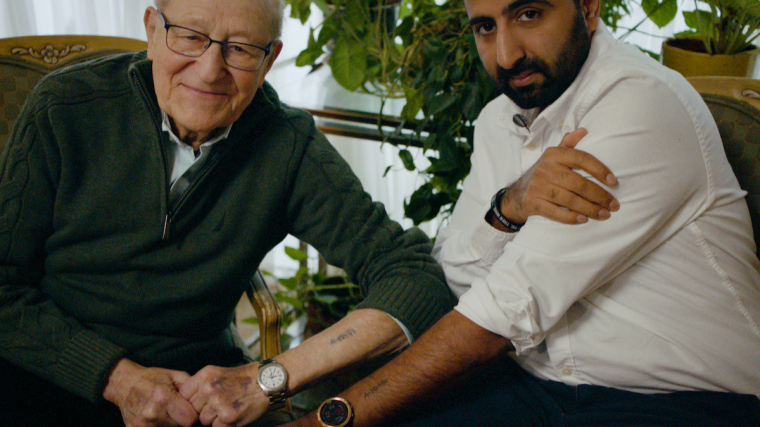 Anti-Semitism is on the rise throughout the world and to combat increasing prejudice and persecution, Christians United for Israel is releasing a documentary titled "Never Again?" which features the powerful testimony of a former radical Muslim who now travels the world calling for an end to hatred against Jews. 
CUFI, the largest pro-Israel organization in the U.S., is presenting "Never Again?" in theaters across the U.S. on Oct. 13 and 15. The film features commentary from Holocaust survivor Irving Roth and former radical Islamist Kasim Hafeez. The two have formed an unlikely friendship after Hafeez denounced his former radicalized Muslim extremist ideologies.
Although he once believed he was a "victim" at the hands of the Jewish people and the West, Hafeez has now dedicated his voice to educate younger generations about the history and horrors of modern-day anti-Semitism.
"In Pakistan, I came across actual violent terrorist groups, and it's interesting because that victim narrative makes you feel helpless and these terrorist groups, while they do abhorrent things, you look at them and go, 'Well, at least they're not victims,'" Hafeez told The Christian Post.
Now an American citizen and born-again Christian, Hafeez shows his display of solidarity in "Never Again?" as he and Holocaust survivor Roth tell their stories. In the film, they even show their matching tattoos. The tattoo was given to Roth when he was a prisoner in a German concentration camp and Hafeez copied the tattoo as a way to never forget what hatred did to an entire race of people.
Before filming for "Never Again?" Hafeez admitted that he had never really confronted who he was back when he was radicalized and he believes others should take very careful inventory of their own thoughts and bigotries against others.
The Pew Research Center released a survey in January 2020 that found 45% of Americans surveyed were unaware that 6 million Jews were killed during the Holocaust. According to "Never Again?" and CUFI founder and Chairman Pastor John Hagee, it's important people remain aware of what's going on because "violent anti-Semitism is rising" across America. The organization is encouraging people to not be "idly" standing by.
The following is an edited transcript of The Christian Post's interview with Hafeez, who details his process from once being a radicalized anti-Semite to becoming an advocate who defends Israel on the world stage.
Christian Post:  Can you share with us your testimony?
Hafeez: I grew up in the U.K., my family had come to the U.K. from Pakistan as economic migrants. My family up to this day are fully observant Sunni-Muslims. I grew up in a predominantly Pakistani Muslim community in England. The community I grew up in was not radical or extreme by how we look at the growth of Muslim extremism in a lot of communities, but there was always this very strong vein of anti-Semitism and anti-Western sentiment. So I grew up around a lot of anti-Semitism, it was just casual. Anyone looking at it objectively can agree that bigotry, racism, anti-Semitism, all of is abhorrent and disgusting. But when you grow up around this casual anti-Semitism for most of your childhood, it no longer becomes something wrong; it's the norm.
One of the issues in Europe, which I feel that it isn't really talked about or acknowledged, I live in the U.S. now, I lived in Canada for three years before, but in the U.K., I was born there, I spent the majority of my life there, and there is still this attitude which is very prevalent in Europe that to be European, race is important, you have to be white. I bring that up because [it was present] even the last time I was in the U.K. just a few years ago. I think that explains why so many young Europeans join ISIS, because there is a feeling of belonging and identity that many Muslims from different ethnic backgrounds in the U.K. simply don't have.
Click here to read more.
SOURCE: Christian Post, Jeannie Law