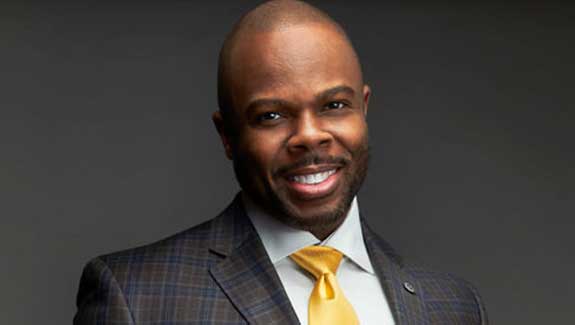 Insight Church Pastor James E. Ward Jr. says he is on a mission to bring racial healing to the nation and "God's blessing to black America" through 40 Days of Humility, Prayer, and Fasting. And he's hoping America will join him.
The Skokie, Illinois, preacher recently catapulted to the national stage through his connection to Julia Jackson, one of his most devout parishioners and mother of 29-year-old Wisconsin father Jacob S. Blake, who was shot multiple times by a police officer in Kenosha on Aug. 23. Blake is currently "in a spinal injury rehabilitation center in Chicago."
His shooting was one of several primarily deadly encounters between black men and local law enforcement that sparked civil unrest over racial justice and inequality since the killing of George Floyd in the custody of Minneapolis Police Department officers in May.
"The issue that we see in society surrounding race, the protest, the rioting, those things communicate to us that there is a serious problem in our nation and unfortunately in most cases we are not … equipped to solve the problem that we know needs to be solved," Ward told The Christian Post in an interview Friday.
He is convinced that when it comes to race, America is wrestling with a deep-rooted spiritual problem that must be addressed with a spiritual response. And that's why he launched the national spiritual prayer movement on Sept.  25 that will culminate with a livestreamed prayer for the nation on Nov. 2 from Washington, D.C.
"40 Days asks all Americans to fervently pray and fast before God for racial harmony and healing in America prior to the national presidential election," the movement said in a statement to CP.
The group has also launched an initiative called the Zero Victim Community Development Corporation, which was "prayerfully designed to restore and strengthen black lives and families across our country."
"Part of the expression of our prayer is prayer with action and this new Zero Victim Development Corporation is us engaging to act on behalf of what we believe, and really beginning to target how to bring God's blessing to black America," Ward said.
Even in a socially disruptive election year when Christians remain deeply divided on issues of race and politics, Ward is convinced that if people are able to humble themselves in prayer, America can fix its race problem.
"I'm very much aware of the disparity of folks looking at what I call a singular issue through multiple lenses. And that's basically what you see happening in society where it's individuals looking at the same bottle. One person is looking at the logo on the front side and the other person is looking at the nutrition label on the backside," explained Ward.
Click here to read more.
SOURCE: Christian Post, Leonardo Blair