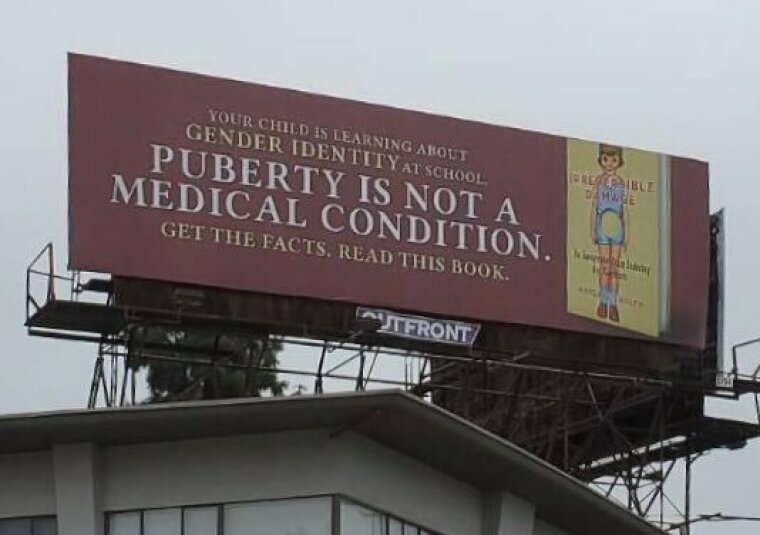 GoFundMe has shut down the efforts of parents attempting to raise money to display billboards that say "puberty is not a medical condition" for violating its user rules.
The fundraising effort, which was inspired by a Los Angeles-area father of a gender-confused teenaged daughter who put up one such billboard near West Hollywood, was taken down Wednesday on the widely-used crowdfunding site. The father has received no specific response from GoFundMe as to why his page was removed.
The billboard that was erected last week in California and will be there for one month states: "Your child is learning about gender identity in school. Puberty is not a medical condition. Get the Facts. Read this book." The message was positioned next to the cover of the recent book Irreversible Damage: The Transgender Craze Seducing Our Daughters by Wall Street Journal contributor Abigail Shrier.
According to GoFundMe's terms of service, the platform has "sole discretion" to determine "an abuse of power or in support of hate, violence, harassment, bullying, discrimination, terrorism, or intolerance of any kind relating to … sexual orientation, sex, gender, gender identity, gender expression."
Dozens of parents throughout the country who saw the billboard and have children that have come to believe they are the opposite sex reached out to the father, expressing a desire to put up similar billboards in their cities in order to generate discussion of an issue they say has not received enough scrutiny in the mainstream press.
The father, who spoke to The Christian Post earlier this week and again on Thursday on condition of anonymity for fear of backlash and losing his job, said that his GoFundMe campaign had raised "several thousand dollars and was growing."
When he went to check the status of the fundraiser Wednesday evening, he realized it had been taken down and soon thereafter he started receiving messages from those who had contributed. They had received notices that GoFundMe would be returning their donations and they were wondering what they could now do. Contributions ranged from $10 to $500, he noted.
Click here to read more.
SOURCE: Christian Post, Brandon Showalter