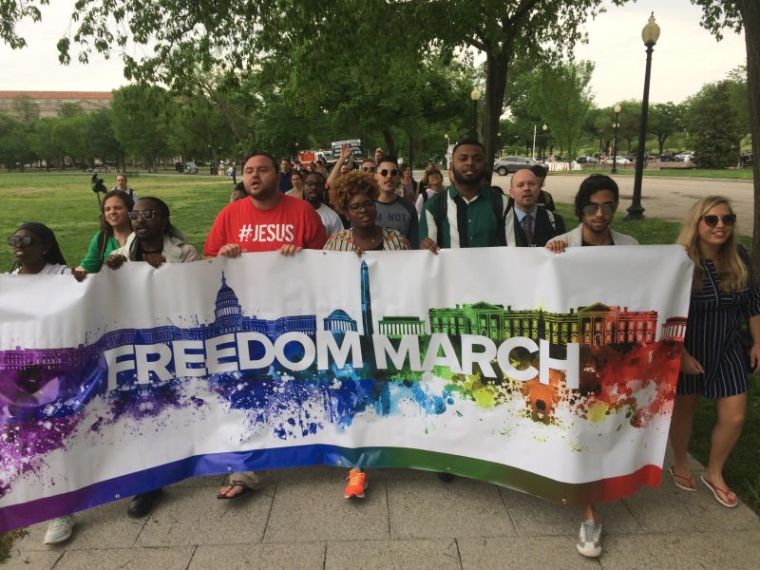 A movement of men and women who once lived and identified as LGBT will be hosting an intercessory prayer next weekend amid an uptick of people reaching out to them saying they, too, want to follow Jesus.
Jeffrey McCall, the co-founder of the Freedom March, said in an interview with The Christian Post on Friday that while they originally hoped to hold a rally in the Atlanta, Georgia, as they have done previously in other major U.S. cities — the first one being in Washington, D.C., in the spring of 2018 — they were unable to obtain the necessary permits. Instead, they will be hosting a prayer and testimony event for those who've left homosexual and transgender identities behind and tell of their newfound freedom in Christ.
McCall has been hearing from increasing numbers of people, complete strangers, who've managed to find the Freedom March online and reach out to express their desire to deny themselves and walk in obedience with the Lord with regard to their sexuality.
"Probably around June or July we started, both in the Freedom March email inbox and in my ministry, For Such a Time, hearing from people that we did not know, saying that they wanted to leave the LGBTQ lifestyle. Several of them said they had supernatural encounters with God and they heard the Lord speak Scriptures to them. Others just heard Him say 'Leave the life,'" McCall told CP.
"We've had the most activity that I've ever seen in my years of ministry," he said, estimating that there has been a 70% increase in correspondence.
The event, which is being called Freedom Family Weekend, will be held at New Bridge Church in Lawrenceville, Georgia, from 6 p.m. to 10 p.m. on Oct. 16 and from 1 p.m. to 5 p.m. on Oct. 17. Freedom Family Weekend will be open to the public, particularly those with an interest in interceding for revival among LGBT-identified people. It will also be live-streamed on Facebook.
McCall believes the COVID-19 pandemic has contributed to this notable rise in interest.
Click here to read more.
SOURCE: Christian Post, Brandon Showalter