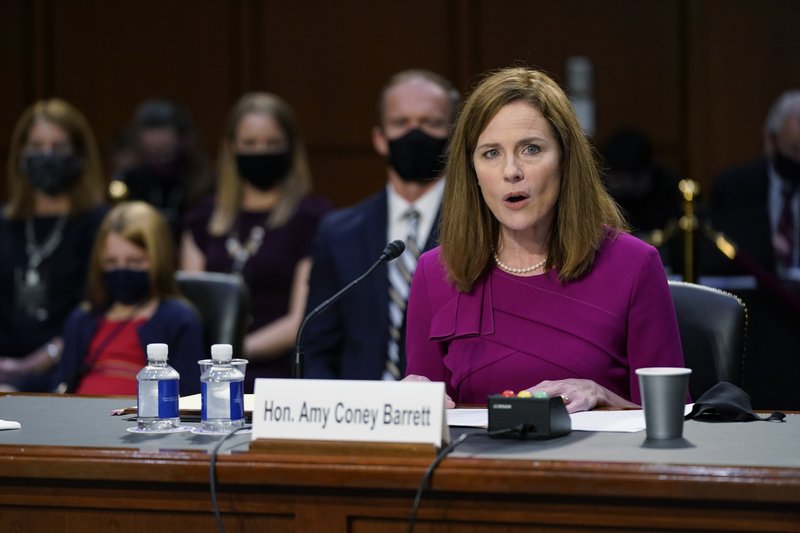 President Donald Trump's Supreme Court nominee Amy Coney Barrett was back on Capitol Hill Tuesday for the second day of her confirmation hearings where she answered questions from members of the Senate Judiciary Committee.
Each senator had 30 minutes to question the nominee. Throughout the day, Barrett was repeatedly questioned about her views on certain hot-button issues that might come before the court and many senators used their time to give monologues on issues of importance to them.
On the following pages are four memorable moments from the second day of Barrett's confirmation hearings.
Barrett defends association with Alliance Defending Freedom
Sen. Patrick Leahy, D-Vt., questioned Barrett about her association with Alliance Defending Freedom, mentioning that she had given five lectures on originalism to members of the Christian legal group's Blackstone Legal Fellowship. "Were you aware of ADF's decadeslong efforts to recriminalize homosexuality?" he asked.
When Barrett replied that she was not aware of those efforts, Leahy said that ADF "filed a brief in Lawrence v. Texas … in support of state laws punishing private homosexual activity" and "celebrated when India restored a law punishing sodomy to 10 years in prison." Leahy went on to express concern that she worked with an organization "working to criminalize people for loving a person that they are in love with."
Barrett defended her work with the Alliance Defending Freedom and her speeches to the Blackstone Legal Fellowship: "My experience at the Blackstone program at which I spoke was a wonderful one. It gathers the best and brightest Christian … law students from around the country."
"I enjoyed teaching the students about what my specialty was, which is constitutional law and nothing about any of my interactions with anyone involved in the Blackstone program were ever indicative of any kind of discrimination on the basis of anything," she added.
After Barrett responded to Leahy's question about Alliance Defending Freedom, the senator asked her if she thought same-sex marriage should "be a crime."
She responded by declaring that "Obergefell clearly says that there is a constitutional right to same-sex marriage." Leahy followed up by asking if she agreed with the 2015 Supreme Court decision that legalized same-sex marriage nationwide in light of the legal principle of stare decisis.
In her response to that inquiry, Barrett invoked Supreme Court Justice Elena Kagan, who said that she was not going to "give a thumbs-up or a thumbs-down to any particular precedent," acknowledging that "it's precedent of the Supreme Court that gives same-sex couples the right to marry."
Barrett tells Durbin that she and her adopted daughter 'wept together' after seeing the George Floyd video
Sen. Dick Durbin, D-Ill., began his questioning of Barrett by asking her about her position on the Affordable Care Act, reinforcing the commitment of the Democrats on the Senate Judiciary Committee to focus extensively on healthcare throughout her confirmation hearings. He later pivoted to the issue of race, where he asked the Supreme Court nominee for her thoughts on the death of George Floyd.
"Have you seen the George Floyd video?" he asked. When she responded in the affirmative, he asked her, "What impact did it have on you?"
"Senator, as you might imagine, given that I have two black children, that was very, very personal for my family," she replied. Barrett mentioned that witnessing the death of the African American man in Minneapolis police custody was "very difficult" for Vivian, her adopted daughter from Haiti, recalling that "we wept together in my room."
"For Vivian to understand that there would be a risk to her brother or the sons she might have one day of that kind of brutality has been an ongoing conversation and it's a difficult one for us like it is for Americans all over the country," she added.
Durbin proceeded to ask Barrett for her thoughts on the issue of race in the U.S. today. While she maintained that it was an "entirely uncontroversial and obvious statement given, as we just talked about, the George Floyd video, that racism persists in our country," Barrett declined to give "broader statements" or make "broader diagnoses about the problem of racism."
Click here to read more.
SOURCE: Christian Post, Ryan Foley