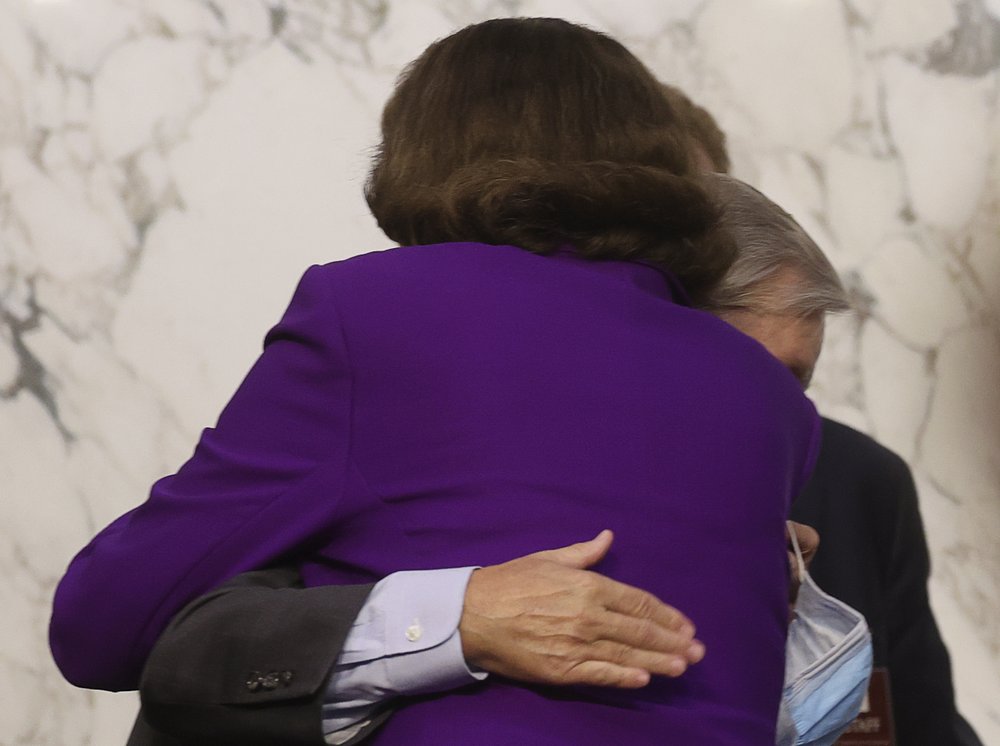 Sen. Dianne Feinstein's (D-Calif.) praise of her Republican colleague, Sen. Lindsey Graham (S.C.), which she followed with a friendly hug, is stirring outrage on the left and prompting calls by prominent liberals for her to step down as the top Democrat on the Senate Judiciary Committee.
Democrats, liberal activists and left-leaning pundits, many of whom were dismayed that Democratic senators didn't put a tougher fight against President Trump's Supreme Court nominee Amy Coney Barrett, expressed outrage.
Demand Justice, an advocacy group that has staunchly opposed Trump's effort to fill the judiciary with conservative nominees, was first out of the gate with a statement calling for Feinstein to resign.
"It's time for Sen. Feinstein to step down from her leadership position on the Senate Judiciary Committee. If she won't, her colleagues need to intervene," Brian Fallon, the executive director of Demand Justice, said in a statement circulated about an hour after Barrett's confirmation hearing ended.
"If Senate Democrats are going to get their act together on the courts going forward, they cannot be led by someone who treats Sunrise activists with contempt and the Republican theft of a Supreme Court seat with kid gloves," Fallon said, referring to the Sunrise Movement, a grassroots environmental organization.
Prominent voices respected on the left followed with their own stinging criticisms.
"Diane Feinstein praising Barrett, and then inexplicably praising Graham, is a clear sign that she should not remain as the top Democrat on the Judiciary Committee," tweeted Norman Ornstein, a resident scholar at the American Enterprise Institute and a contributing editor for the Atlantic magazine.
Laurence Tribe, professor emeritus of constitutional law at Harvard, retweeted Ornstein's statement, adding, "I'm afraid I agree, much as I like Sen. Feinstein personally and admired her work years ago."
Feinstein appeared to undercut weeks of arguments by Senate Minority Leader Charles Schumer (D-N.Y.) and other Democratic senators that Graham's decision to schedule Barrett's confirmation hearing a mere two weeks and two days after her nomination was announced on Sept. 26 was an outrageously unfair ramming through of the nominee.
Graham, who is up for reelection, is also one of Democrats' top political targets in 2020. Donors from around the country poured $57 million into his opponent Jaime Harrison's campaign in the third quarter of the year.
Click here to read more.
SOURCE: The Hill, Alexander Bolton