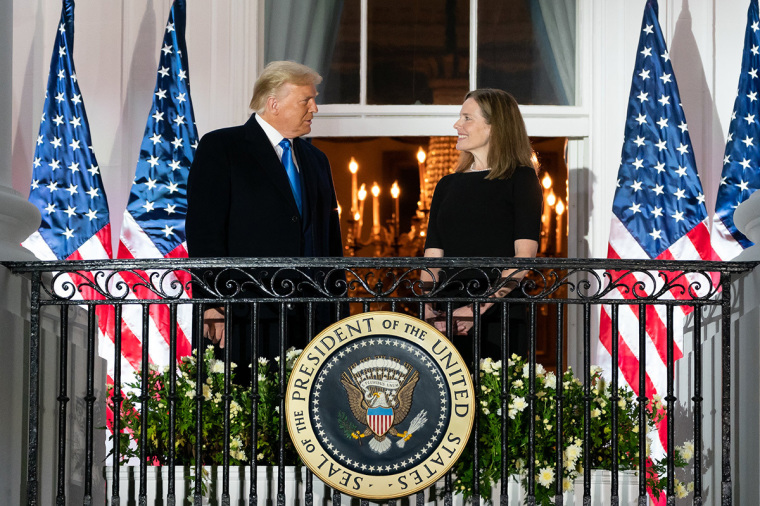 Conservative leaders and prominent evangelical pastors praised the confirmation of Judge Amy Coney Barrett as an associate justice to the U.S. Supreme Court Monday evening, describing her as a fair and highly qualified voice to join the bench.
"From Alaska to Florida, Students for Life and SFLAction has been knocking on doors and making calls reminding Americans to vote Pro-Life first, especially as we consider the implications of just who gets to pick the judges for the generations to come. Our tour was expanded to embrace the nomination of Judge Barrett because she represents the future of a Court that puts the law over private agendas," said Students for Life of America and SFLAction President Kristan Hawkins in a statement celebrating the 52-48 U.S. Senate vote to confirming Barrett.
They added, "Today is the culmination of years of work, decades of work, seeking to nominate justices to the Supreme Court who will protect life in law. Judge Barrett is a brilliant jurist who will bring a fresh perspective to the law for years to come."
Barrett, who is a devout "Catholic Pentecostal" and mother of seven, was praised by Jentezen Franklin, senior pastor of the multi-campus Free Chapel Church in Gainesville, Georgia, as a "spectacular role model" for young girls including his own daughters.
"The Senate has confirmed a fair, honorable, and highly qualified woman to serve on the U.S. Supreme Court. Amy Coney Barrett is a spectacular role model for my own daughters — and for young girls across the country — who aspire to live with a deep commitment to faith in God, a profound love for this blessed nation of ours, and who desire to guarantee liberty and justice for all," Franklin said in a statement to The Christian Post. "My family and I are praying for her. As she has with every responsibility given to her thus far, we are confident she will approach her new position with wisdom and humility."
Live Action founder and President Lila Rose celebrated Barrett's addition to the bench as a fulfilment of President Donald Trump's promise to put "pro-life justices on the Court." Barrett, she said, is a constitutional originalist, and justices who share this philosophy have historically interpreted the Constitution as not including a right to abortion.
"I am hopeful that Justice Amy Coney Barrett, when given the opportunity, will acknowledge the obvious: there is absolutely no right to kill children found in the Constitution. The science is crystal clear: a human life in the womb is just as human as a life outside of the womb. The Constitution states that each of us must be given equal treatment under the law, and this includes children in the womb," Rose said in a statement to CP.
Click here to read more.
SOURCE: Christian Post, Leonardo Blair