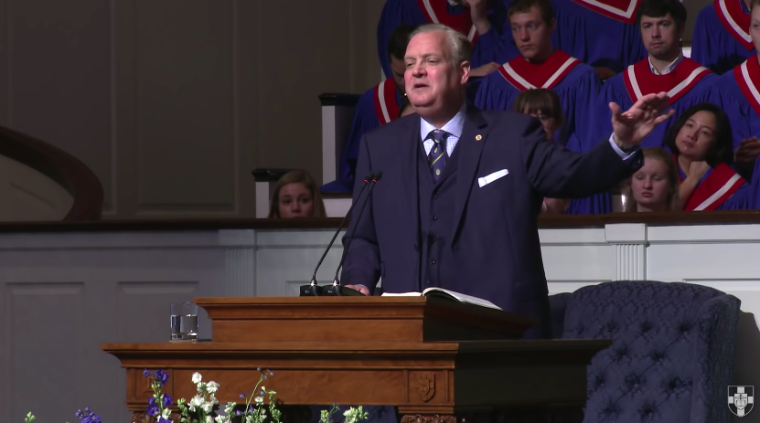 Influential evangelical leader Al Mohler explained why voting for Donald Trump is "consistent" with his Christian convictions, warning that a Biden-Harris administration would be "the most pro-abortion political force in American history."
In a lengthy blog post, Mohler, president of The Southern Baptist Theological Seminary, detailed why he "sincerely" hopes that "Donald Trump—and not Joe Biden—will be elected President of the United States on November 3."
"The difference between a Trump administration and a Biden administration will shape a generation and have a very great deal to do with the future of our nation," Mohler wrote. "My convictions lead me to a very clear conclusion in this election. I hope and vote for the election of Donald Trump and the Republican ticket for a second term and for a continued Republican majority in the U.S. Senate."
Mohler clarified that the president's "divisive comments and sub-presidential behavior are an embarrassment … Constantly." However, he stressed that "character" is also defined by political policies.
"If I am electing a neighbor, it would be Biden hands down," Mohler wrote. "But I am not voting for who will be my neighbor, I am voting for who will be President of the United States."
In his article, Mohler said he chose his vote based on Trump's actions regarding abortion, Supreme Court nominees, protecting religious liberty, and LGBT issues.
Mohler explained that though he did not vote for Trump in 2016, he nevertheless made note of his "pro-life promises, especially with reference to the federal courts culminating in the Supreme Court."
"But I doubted that Donald Trump meant to fulfill his promises," he admitted. "I was wrong."
"In terms of presidential action, Donald Trump has been the most effective and consequential pro-life president of the modern age," he continued. "Furthermore, in both executive actions and court appointments, President Trump has gone far beyond what would have been politically necessary to secure his base. He has staked his place in history and has defied the accommodationist temptation and has given pro-life Americans more than any other president."
"In April, I said in public what was implicit in my commentary and actions since January 2017—I would vote for Donald Trump in 2020. And I already have," he said.
Click here to read more.
SOURCE: Christian Post, Leah MarieAnn Klett